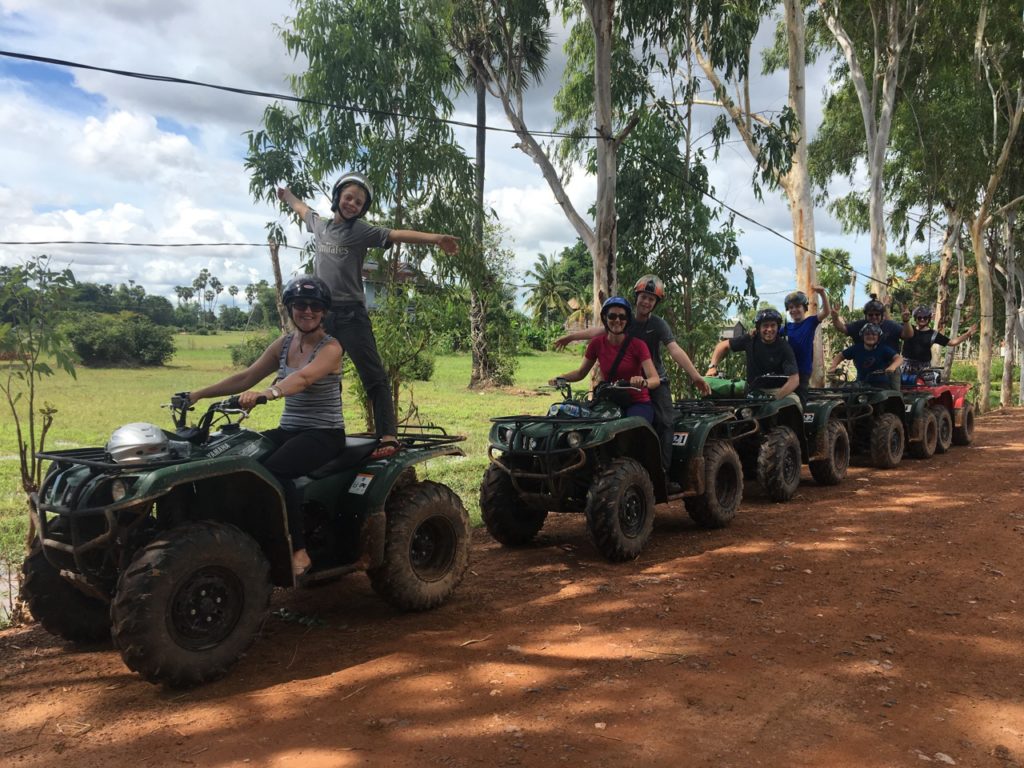 Siem Reap – Best Family Fun Activities
The temples of Angkor are undoubtedly the star attraction but there are many other great things to do in Siem Reap. In total we spent a week in Siem Reap. We visited the monuments of Angkor on three occasions and did the following fun activities too.
Here is our guide to the best family activities in Siem Reap.
KOMNOB AIRBOAT TOURS
After a thirty five minute drive from Siem Reap we arrived at Tonle Sap lake for our Komnob Airboat Tour. Tonle Sap lake is the largest freshwater lake in South-east Asia – 250km long towards Phnom Penh and 200km wide. We got on the boat and set off with our ear defenders in place. Our first time on an airboat…and it's a really thrilling experience, so different from a boat ride. It's very stable and the sensation of floating over water, grasses, and reeds at high speed is really unique.
There is lots of birdlife to see and the tour stops at two floating villages. You get a real insight into the way of life in these villages. We bought sweets, pencils and writing pads to hand out to local children. We really enjoyed this part of the trip – everybody we encountered was really happy to see us.
Dinner at the floating restaurant was excellent, followed by a relaxing gaze at the setting sun. Our journey back was in dusk and then dark….with some slow motoring through the villages where we could see how the families settled down under lamp light for the evening. The whole tour was very professional. We absolutely loved the adventure and the fascinating insight it provided into life on the lake. Highly recommend as a family activity to do while in Siem Reap.
QUAD ADVENTURE CAMBODIA
Our quad bike adventure with Quad Adventure Cambodia started when we were picked up from the hotel. Nine of us all piled into an oversized open-backed tuk tuk and we set off on a fast bumpy ride to the quad bikes fearing we would loose someone out of the back! Our group of nine, comprised four adults and five children, all under the age of fourteen. We had five quads, with an adult and child on each machine, and an instructor to accompany the extra child. After a description of the machines, driving rules, and short practice we were off on our adventure.
It was so much fun for all of us. The surroundings are beautiful, really getting out into the rice fields and local villages. The tracks are muddy, bumpy, wet, and provide a lot of adventure. There was a guide on a motorbike to lead the way, and the extra guide on quad number five took turns with the children driving so they got a chance to be hands on. Our guides were Davy and Niko, both of whom were great with the children and took a real interest in showing us the beautiful surroundings while having loads of fun.
Very highly recommend this activity and specifically this company for anyone wanting to get out into the countryside in an adventurous way. We loved it.
COUNTRYSIDE COOKING CLASS
The Countryside Cooking Class day starts early with a hotel pick up at 7.30am. Ben, our guide and cookery expert, starts the day with a fascinating walk around a proper local market (no tourists) and then it's back to the outdoor kitchen in his village for cookery lessons. We enjoyed every minute of our course – it was all well explained, very hands on, and the end product super tasty. Our menu consisted of fried spring rolls, fish amok and banana rice cakes. Our children were kept engaged throughout and had loads of fun. Once everything is prepared and cooked its time to eat lunch.
The whole story behind Ben and this initiative is so inspiring and so much good work is being done for the local community. The cookery classes enable a group of thirty one orphans to be homed, fed and schooled which is remarkable. At the market we bought writing pads, pencils, crayons and sharpeners to hand out to these children.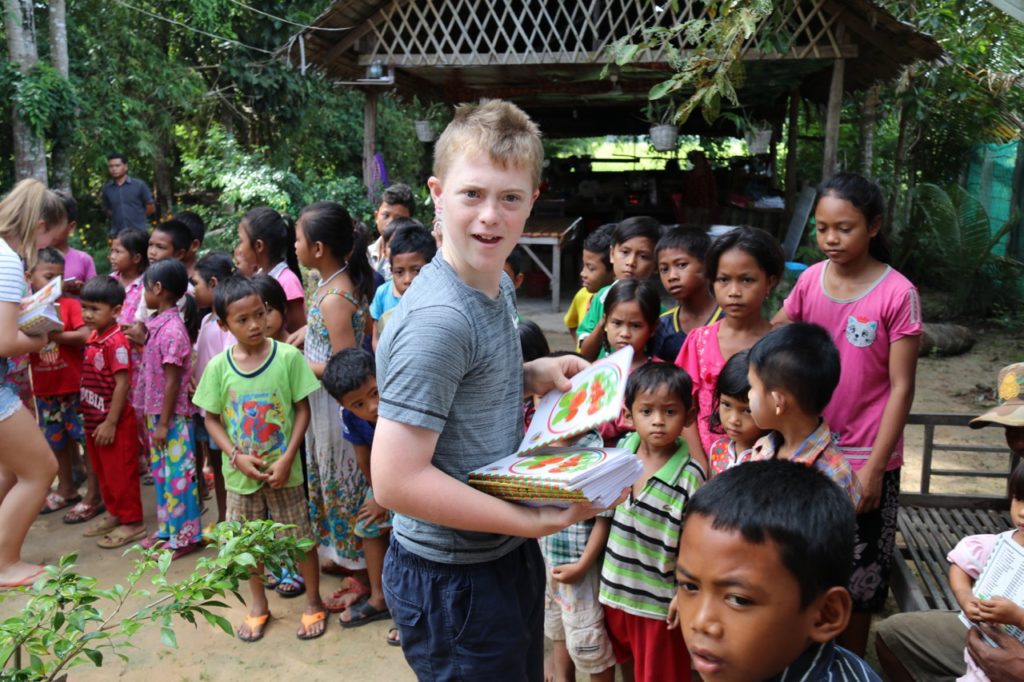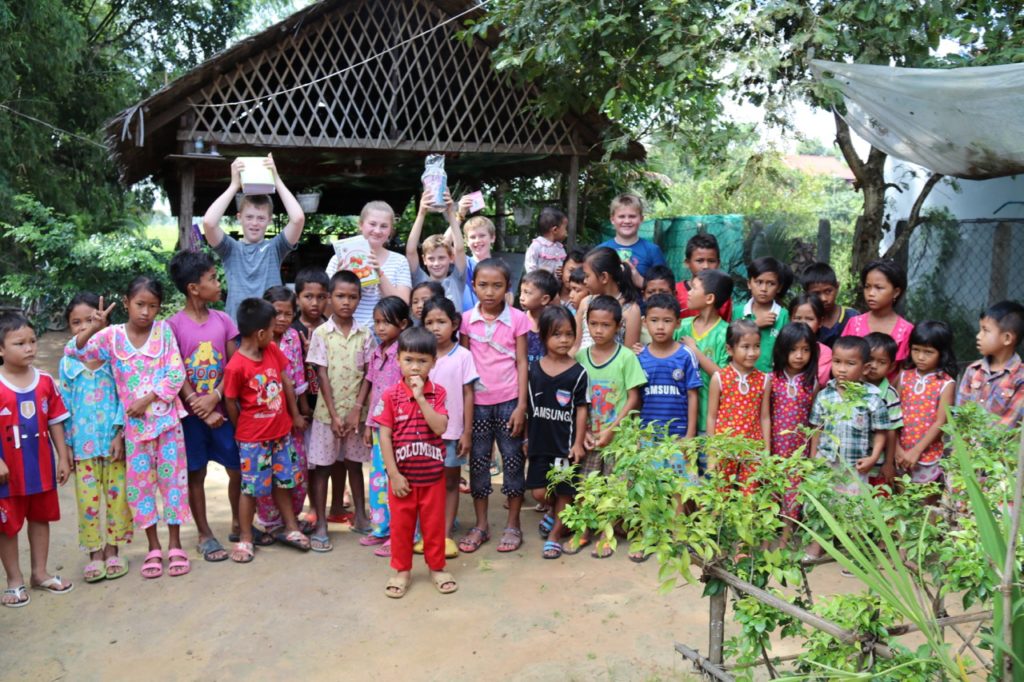 We would highly recommend this activity while in Siem Reap.
WHERE WE STAYED
We stayed for six nights at the Golden Temple Hotel in Siem Reap. We had two rooms for the five of us in this delightful small hotel. The staff are super friendly and really can't do enough for you. This is our favourite hotel of the trip so far.