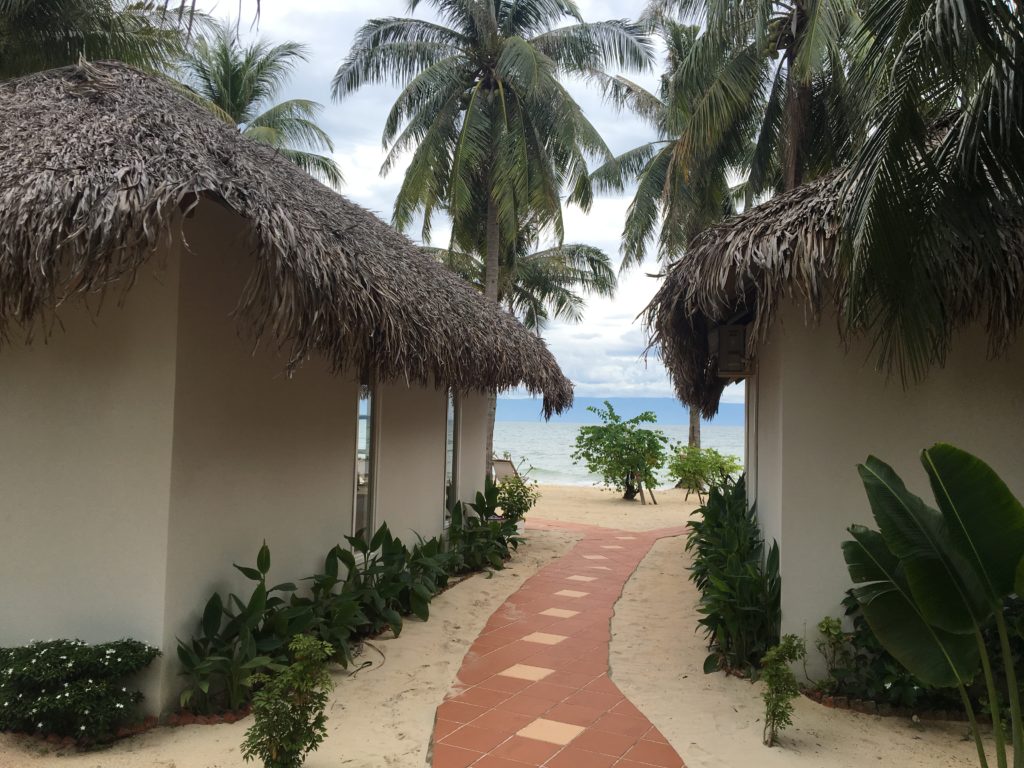 Our Top Ten Accommodations From Our Round the World Adventure
In eight months of travel we stayed in a lot of places, eighty seven to be exact. We moved frequently, never having much time to settle down before packing up and moving on again. The longest we spent in any one place was nine nights and this happened just three times. More usually we spent two or three nights in a place. This type of fast paced travel had us staying in hotels, huts, boats and apartments. Out of the eighty seven places we stayed, keep reading to find out our top ten accommodations from around the world.
WHERE WE STAYED
Our range of accommodation was truly varied. We slept in hotels and motels, hostels, home stays, apartments, bungalows, aeroplanes, beach huts, cabins, tents, villas, boats, and spent a month in a camper van.
Mostly we stayed in cheaper two and three star accommodation, but occasionally we splurged on more expensive places. The majority of the places we stayed in were nothing fancy, but we tried to find places with a special or unique location. Frequently we had one room with a bathroom and just enough space for the five of us and our backpacks. At other times slightly more space with two rooms. As anybody with a family of five will know, many hotels do not cater for the larger three child family, but it is always worth asking as often a mattress or spare bed was provided. There were a few places that were terrible, budget accommodations that are almost a necessity of this type of travel. We were able to balance out those few bad stays with the occasional fancier place or the chance to stay somewhere unique.
If you are planning a trip soon and heading to any of these places, check out these accommodations. Most are budget friendly, several are unique, and a couple more expensive but worth every penny. Here are our top ten accommodations from eight months of travel (in no particular order).
TOP TEN ACCOMMODATIONS
Yangshuo Mountain Retreat, Yangshuo, China
Thongbay Guesthouse, Luang Prabang, Laos
Jock Safari Lodge, Kruger Park, South Africa
Peppercorn Beach Resort, Phu Quoc, Vietnam
Golden Temple Hotel, Siem Reap, Cambodia
1770 Beach Shacks, Town of Seventeen Seventy, Australia
Castaway Island Resort, Fiji
Samed Villa Resort, Koh Samet, Thailand
Val D'Or Guesthouse, Franschhoek, South Africa
Galaxy Premium Cruises, Halong Bay, Vietnam
YANGSHUO MOUNTAIN RETREAT, YANGSHUO, CHINA
Yangshuo was one of those places where we wished we had more time. We spent only three nights here and really could have stayed a lot longer. There is so much to do in Yangshuo, from hiking and cycling, to Kung Fu and cooking classes. The Yangshuo Mountain Retreat has a fantastic location alongside the Yulong River amongst the limestone landscape of which this region is famous. At the hotel's restaurant we enjoyed delicious meals, ranging from Chinese food to more familiar western cuisines. They also served delicious milkshakes and smoothies.
The Retreat was originally conceived as a simple ecolodge where expat friends could escape from the chaos of polluted mega-cities. The popularity and size of the lodge grew but they've stayed true to the authenticity of their original concept, like making their own bamboo furniture and offering a simple farm-to-table menu with a few western favourites.
The five of us stayed in a large family room on the ground floor.
We will remember this place for its fantastic location, wonderful food and the friendliness of the staff. What can be better than sitting eating dinner on the banks of a river amongst spectacular karst scenery, while watching bamboo rafts float past.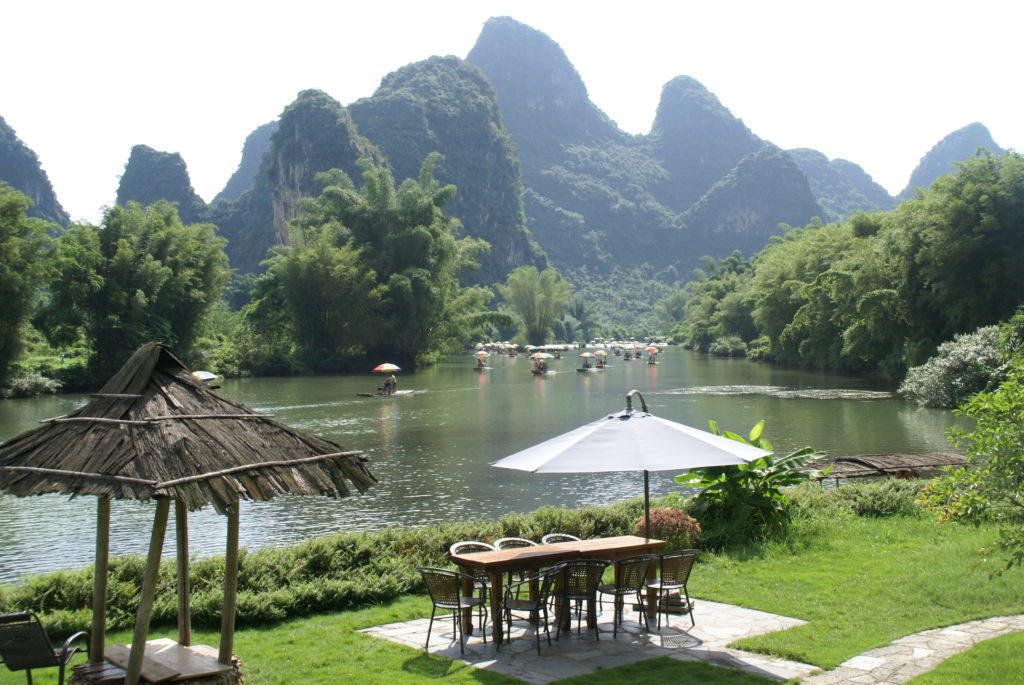 This is a very family friendly place, offering rooms for two to five people. Check out the Yangshuo Mountain Retreat website for more information.
For more on what we did while in Yangshuo:
Cycling and Kung Fu in Yangshuo
THONGBAY GUESTHOUSE, LUANG PRABANG, LAOS
We arrived in Luang Prabang in Laos having taken a slow boat along the Mekong River from the Thai-Laos border, an amazing experience in itself. Luang Prabang is a franco-asian sanctuary with great culture and amazing food. The Thongbay Guesthouse has a stunning location on the banks of the Nam Khan River with bungalows perched high on stilts overlooking the river.
We stayed in a large family bungalow overlooking the river, with amazing views from our terrace. This guesthouse served one of the best breakfasts we encountered on our trip, with pancakes, fruit, eggs, homemade yoghurt, granola, tea, coffee, croissants, and more. Every morning we would sit on a private deck and enjoy a delicious feast, all while looking out across the river.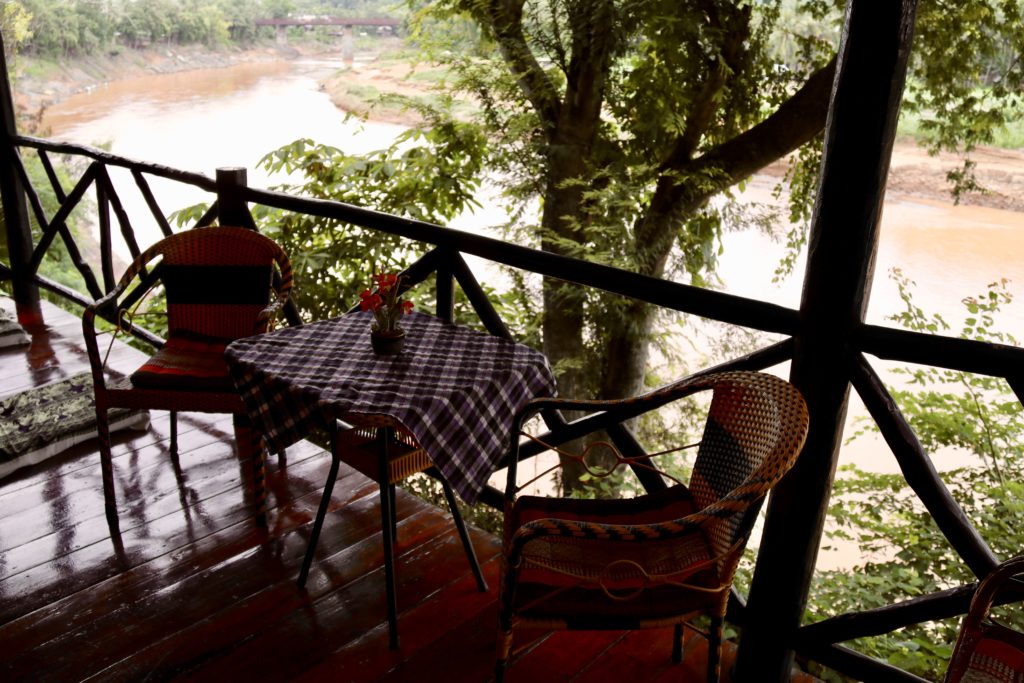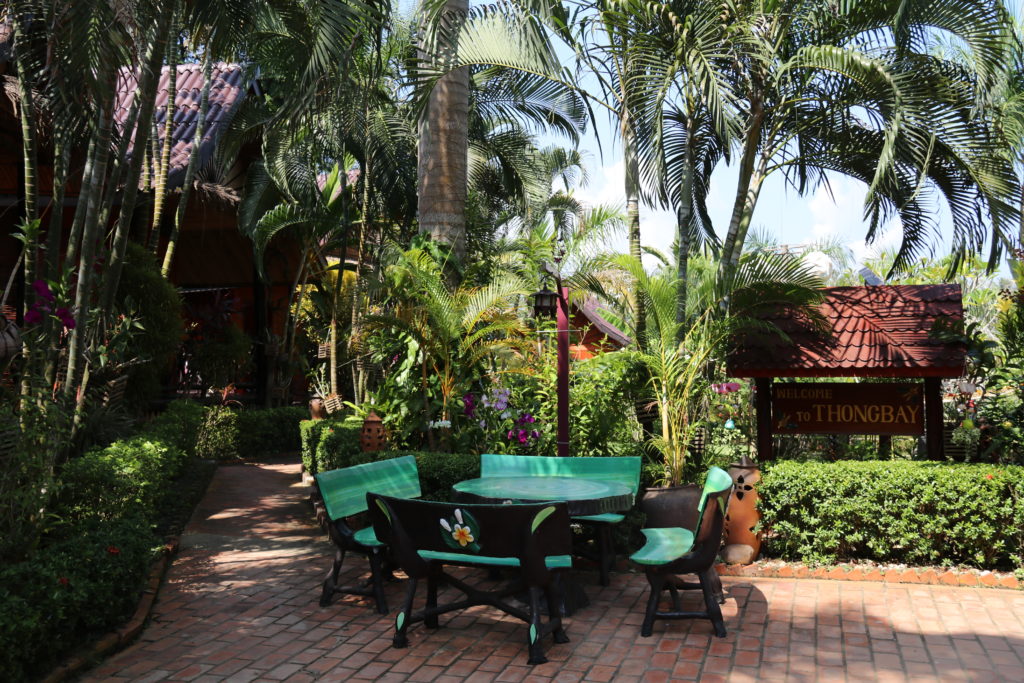 The staff made our stay truly special and we were sad to say goodbye to this wonderful place.
Check out the Thongbay Guesthouse website for more details.
Read more about our stay in Luang Prabang:
Love Luang Prabang in 7 Different Ways
Taking a Slow Boat Down the Mighty Mekong River
JOCK SAFARI LODGE, KRUGER PARK, SOUTH AFRICA
Jock Safari Lodge was one of our splurge places, a top class safari lodge that was worth every penny. This was our first family safari. We wanted it to be special.
The lodge nestles amidst the lush vegetation in the south-western corner of Kruger National Park. It overlooks a dry river bed and is spectacular in its setting.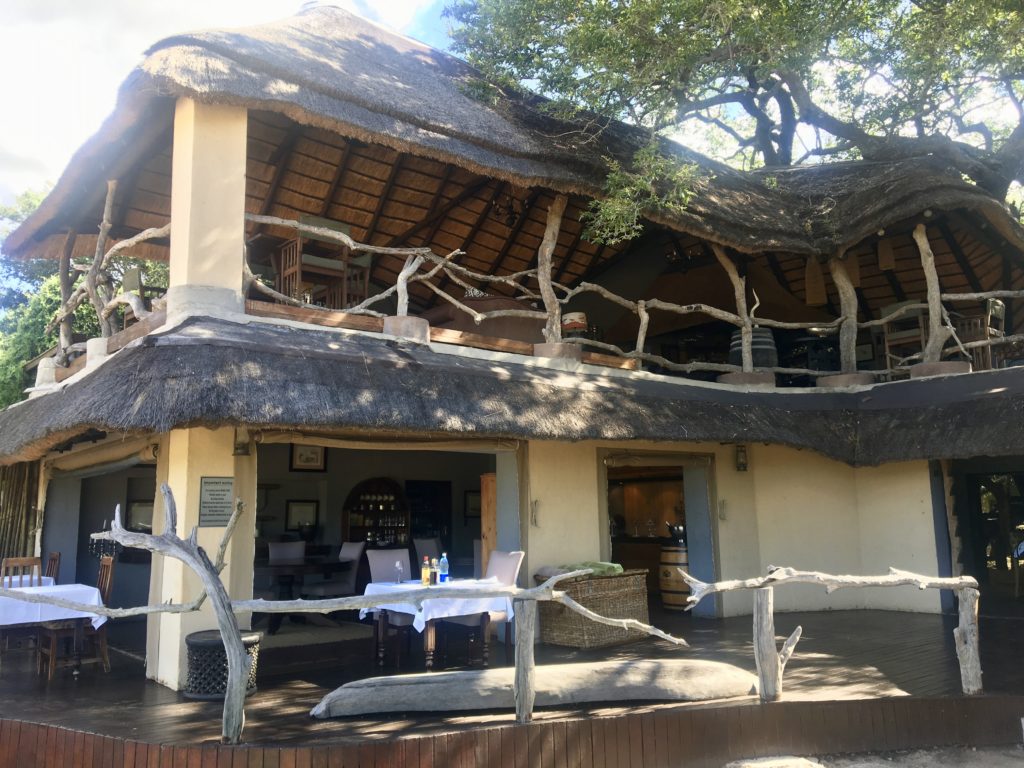 We had two beautiful adjoining rooms, overlooking the dry river bed with plenty of outdoor space, including an outdoor shower, plunge pool and day bed. The rooms were very large, the beds were comfortable, and the bathrooms were beautiful. At night we slept under mosquito nets listening to the sounds of the wild outside.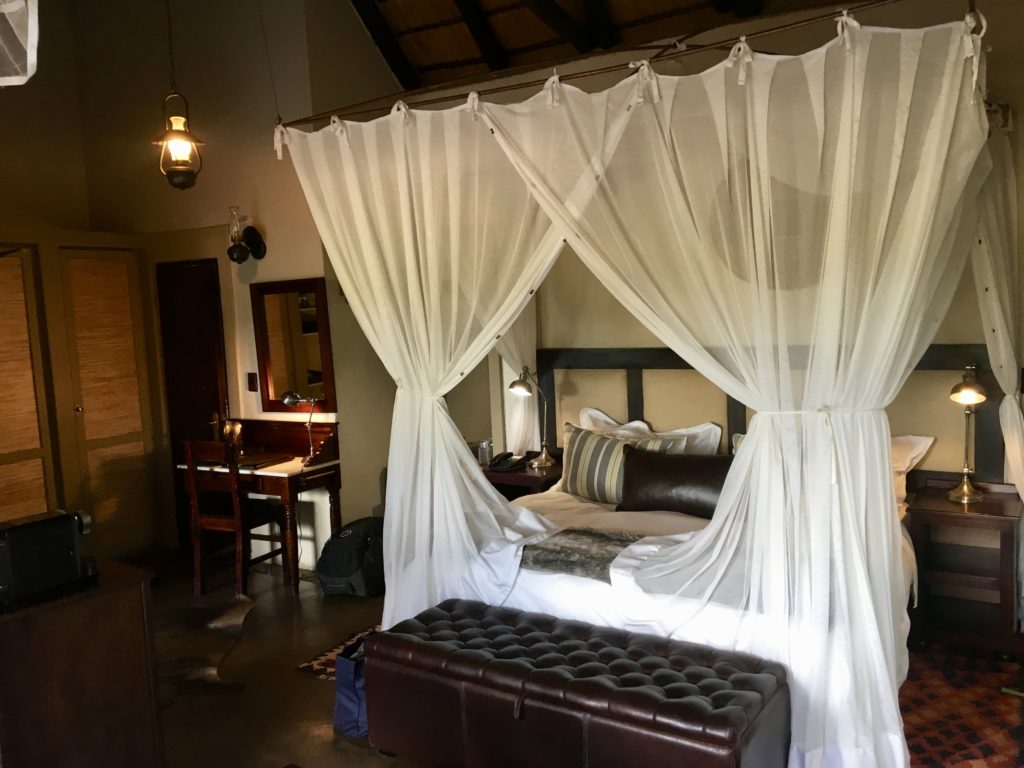 We spent three full days at the lodge with all our food included. The food at the lodge is amazing with breakfast, lunch, afternoon tea and dinner all being served, as well as drinks and snacks on every game drive. The highlight for us was the twice daily game drives. Animals were plentiful during our stay. Whilst at Jock's we saw all the Big 5, and so much more in addition.
Jock Safari Lodge is perfect for a family safari. The children were given gifts and activity books when we arrived. We had our own safari vehicle and ranger for the duration of our stay. At all times the children were made very welcome and people went out of their way to make sure they were having a good time.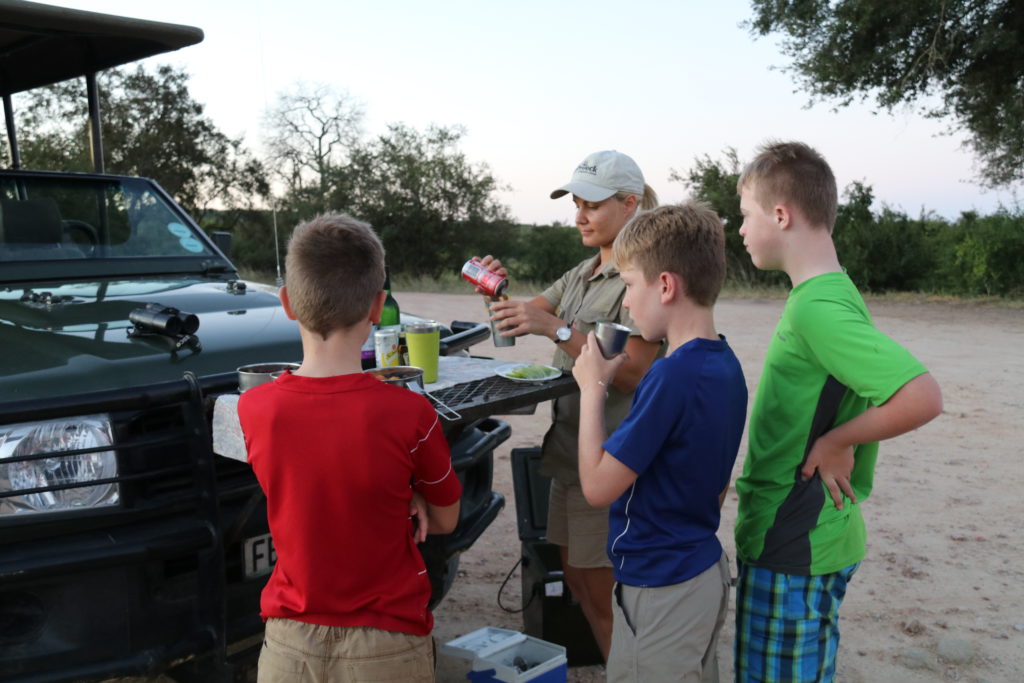 Visit Jock Safari Lodge website for more details.
Read more about our stay at Jock Safari Lodge:
Family Safari in Kruger National Park
PEPPERCORN BEACH RESORT, PHU QUOC, VIETNAM
Peppercorn Beach Resort is a family run resort on the tranquil northern shores of Phu Quoc island. Phu Quoc floats in the warm turquoise waters in the Gulf of Thailand, and is Vietnam's largest island. The resort comprises of beach bungalows dotted alongside the beach.
We spent five nights at the Peppercorn Beach Resort staying in two side by side beachside bungalows. Here we were joined by friends from the UK. As there were five of us we couldn't fit into their family rooms which have a maximum of four people so we had two thatched beachside bungalows.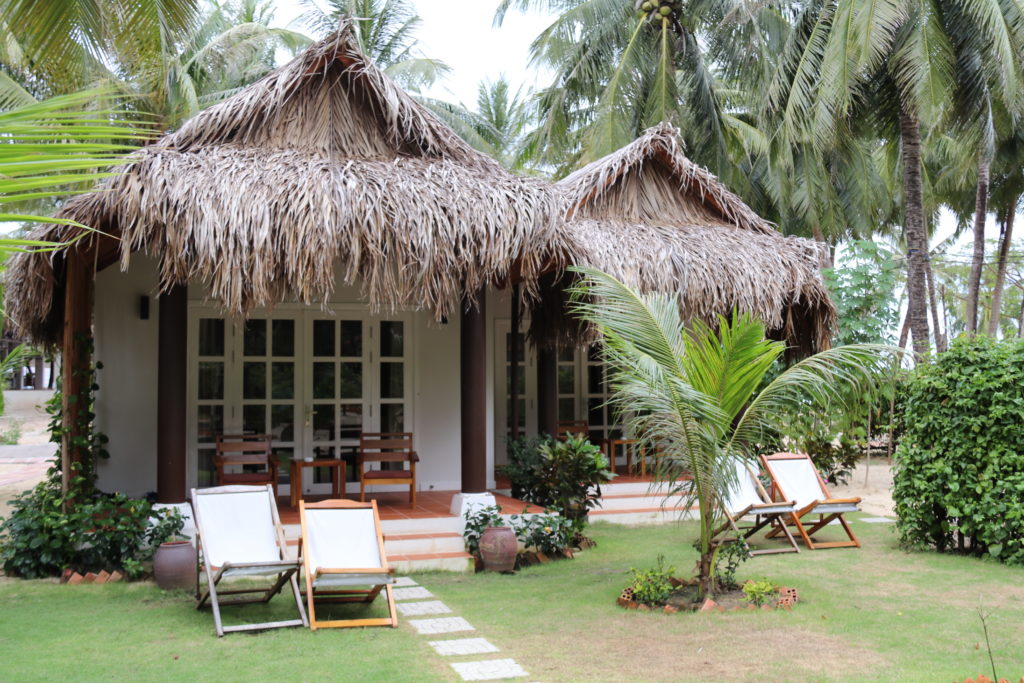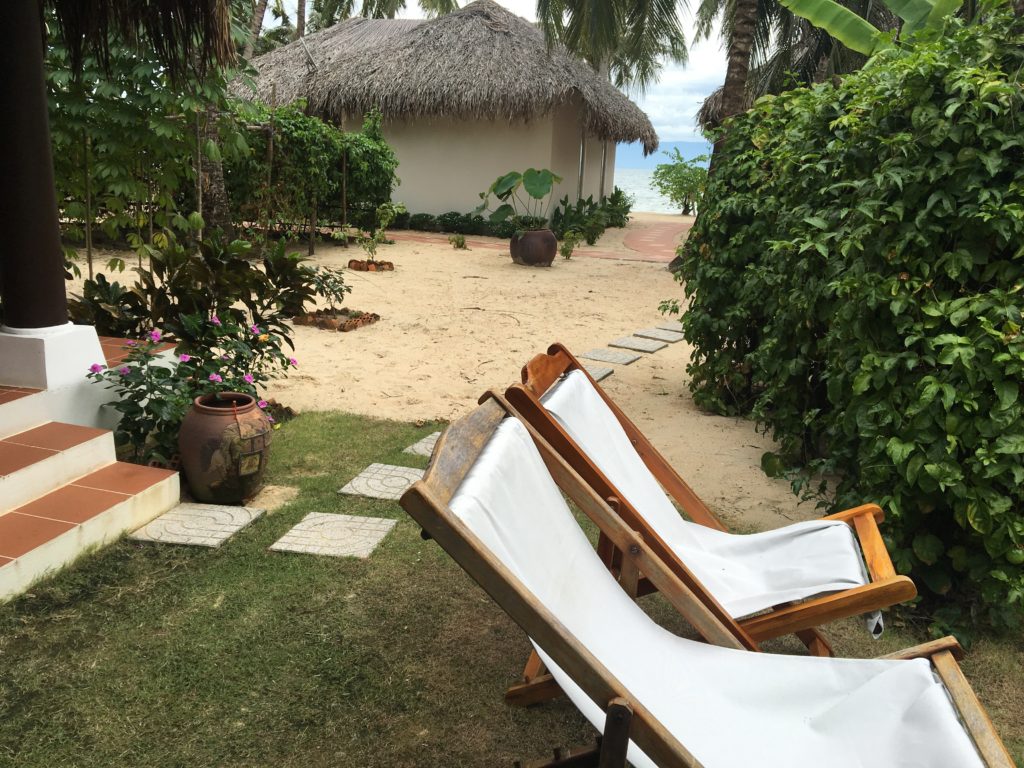 The food and drink at the resort was a highlight. We ate all our meals in the restaurant overlooking the beach, particularly enjoying the daily fish and seafood specials. Free cocktails are served every afternoon between 4-5pm.
The Peppercorn Beach Resort has a truly family friendly feel. The staff act as a big family and treat you as part of it.  They make sure everybody has a truly memorable experience.
Visit the Peppercorn Beach Resort website for more information.
For more on what we did on Phu Quoc Island:
GOLDEN TEMPLE HOTEL, SIEM REAP, CAMBODIA
Siem Reap is famous for the Temples of Angkor and has an abundance of accommodation to suit all budgets. We specifically wanted somewhere smaller and more personal than the big brands or chain hotels. The Golden Temple delivers 5* service and facilities in a boutique style environment, right in the middle of town.
Our family of five had two rooms overlooking the pool. The hotel decor is really beautiful, traditional Khmer styles with striking colours, all mixed with modern facilities.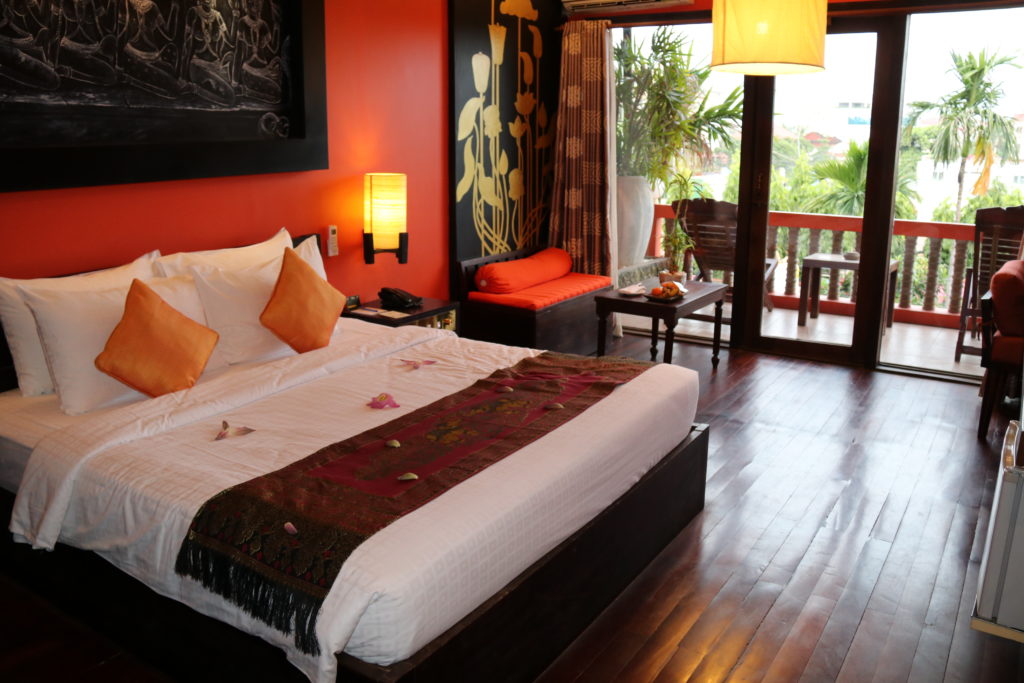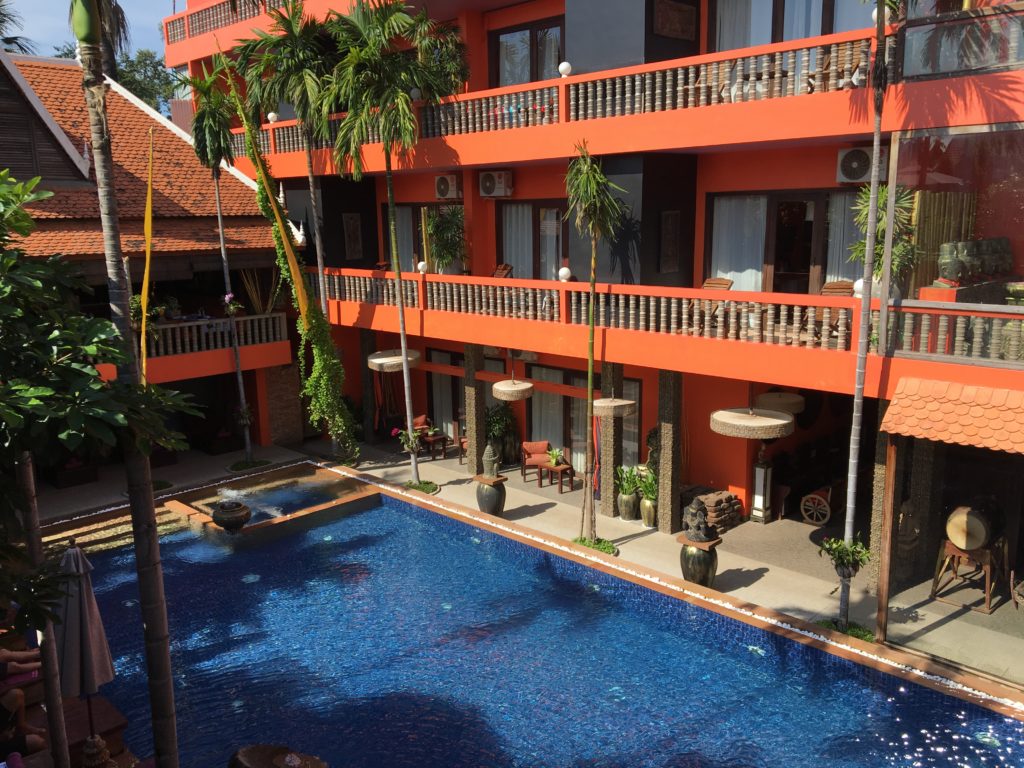 It was the staff at the Golden Temple Hotel which made our stay truly special. They were always friendly, welcoming and happy to help. Everything was thought of to make your stay extra special. Welcome drinks and snacks on arrival, free drinks and snacks at the pool and between 6-7pm every night, a free Khmer style five course dinner, free massages for everyone and a complimentary picnic style meal at the temples. An endless succession of nice touches which generate a heavy dose of feel good factor. Our time here was memorable and this was another place where it was hard to say goodbye.
Check out the Golden Temple Hotel website.
To read more about our stay in Siem Reap:
Siem Reap – Best Family Fun Activities
1770 BEACH SHACKS, TOWN OF SEVENTEEN SEVENTY, AUSTRALIA
The Town of Seventeen Seventy is located on a stretch of sub-tropical surf coastline north of Fraser Island and south of the Whitsundays, about an hour's drive from Bundaberg in the south. This was to be our gateway to the Southern Great Barrier Reef.
The Town of 1770 is named after the visit of Lieutenant James Cook in May 1770. Cook's second landfall in Australia, the first in Queensland, gives rise to the area's claim to be the birthplace of Queensland.
The 1770 Beach Shacks are so much more than the name suggests. We stayed in 'Escape', a two bedroom wooden beach shack, equipped with a kitchen, large outdoor living terrace and bathroom. It was clean, very spacious and contained every amenity needed for a self catering stay. The stunning hillside location right next to the beach and the views afforded from all the beach shacks make it a spectacular location.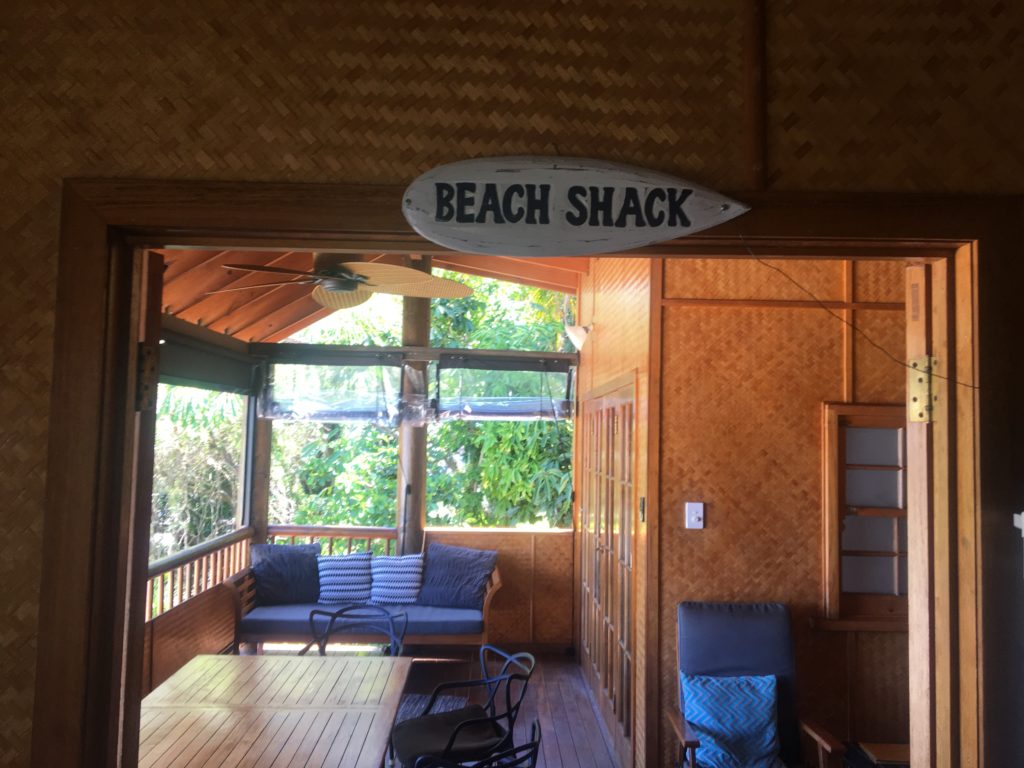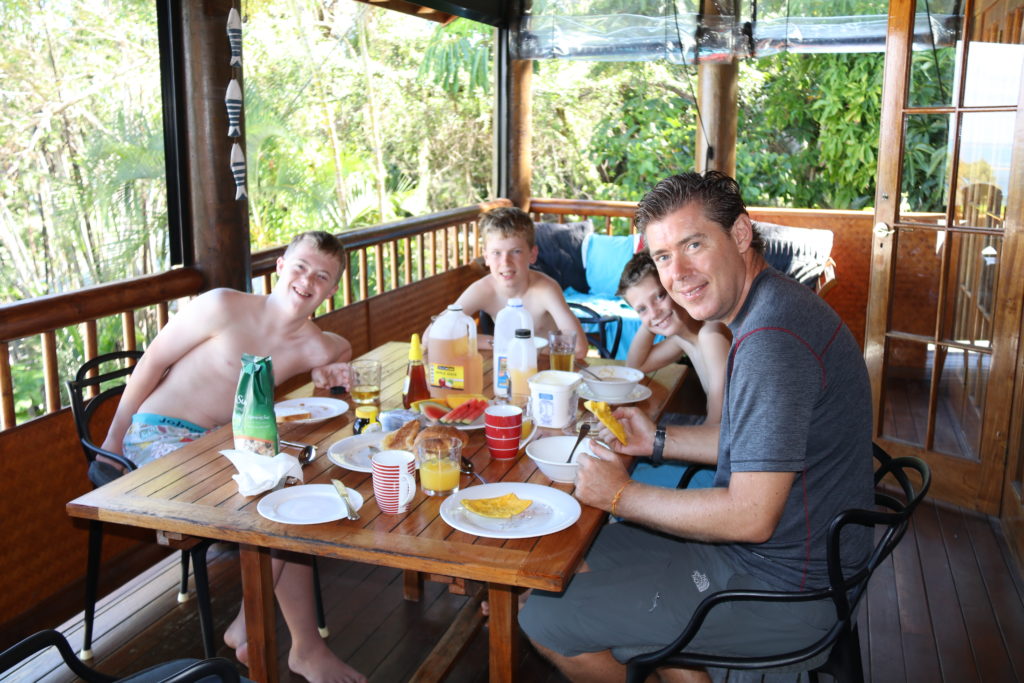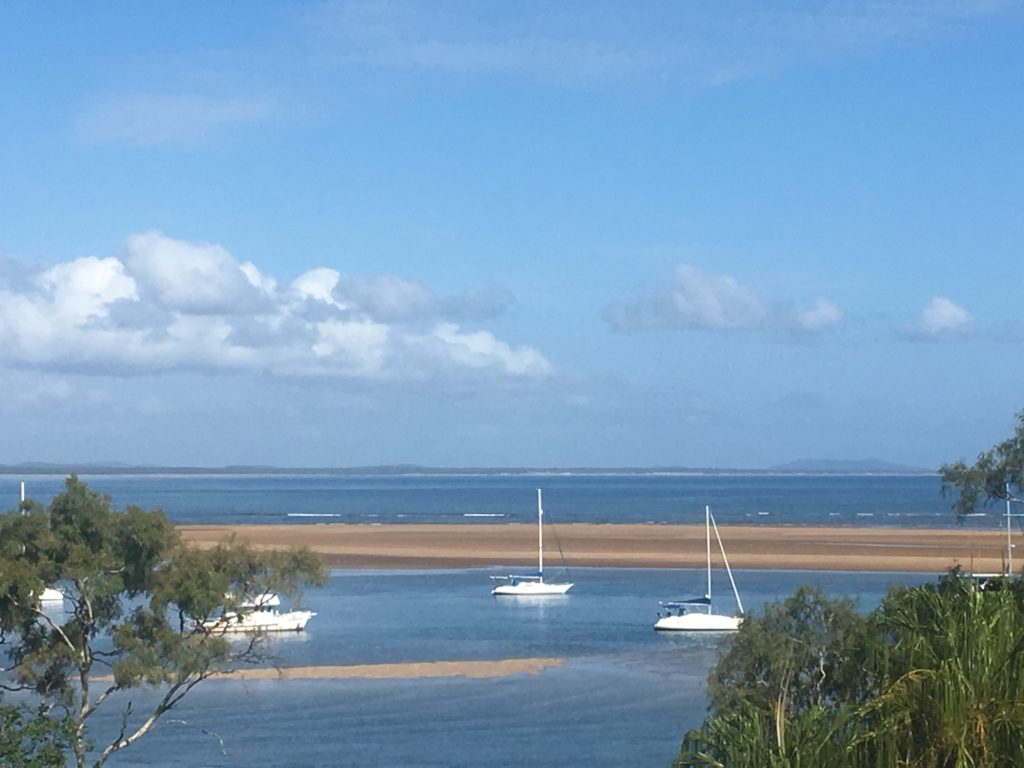 Visit 1770 Beach Shacks to find out more.
For more on what we did at 1770:
CASTAWAY ISLAND RESORT, FIJI
Bula! Paradise in Fiji…? It was everything we expected and more. Crystal clear aquamarine water, white sandy beaches, amazing sunsets, beautiful islands. We felt that Fiji was a holiday from our holiday…! Here we got some much needed relaxation from our hectic travels around the world.
Fiji is a country composed of a chain of islands, some large, like the main island, Viti Levu, and some smaller, like the Yasawas and Mamanucas. We spent ten days at Castaway Island Resort, part of the Mamanuca Islands. Typically on this trip, we have not been resort type travelers, but it was in Fiji where we made an exception. We wanted the experience of staying on one of the smaller islands and Castaway Island Resort was perfect for us.
This resort is great for families. With two swimming pools, long stretches of beautiful beach, sea kayaks and paddleboards, water sports, and several restaurants, this place has it all.
We stayed in a five person bure with views of the beach and ocean. There was plenty of room for us all.
This was another place we were sad to leave. We made some wonderful memories and I'm sure we will be back one day. What an amazing place!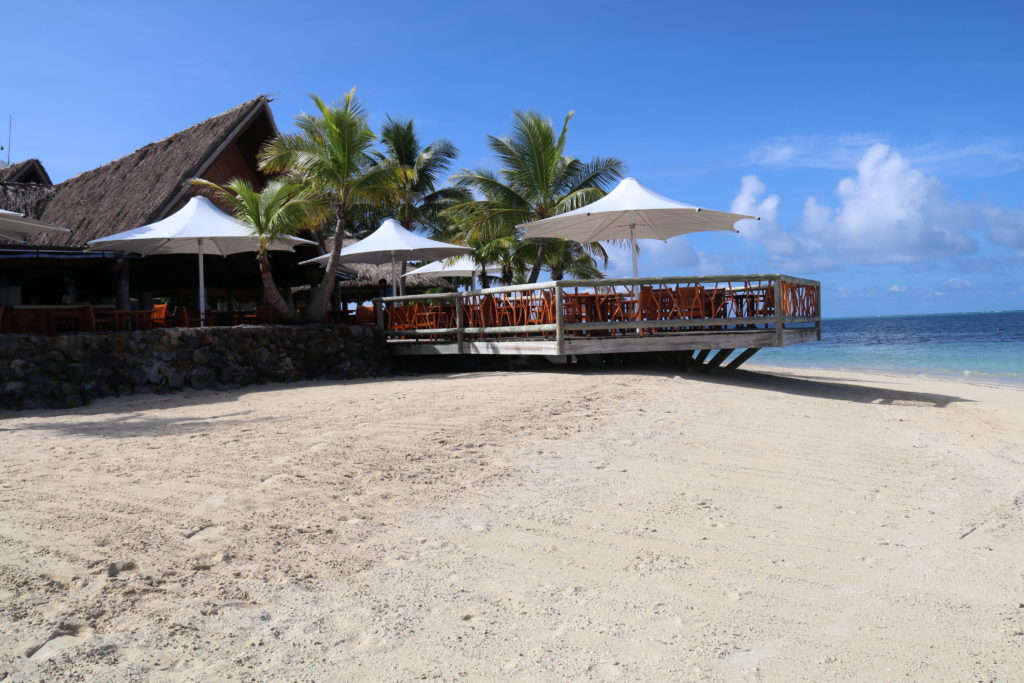 Visit Castaway Island Resort website to find out more.
Read more about our stay on Castaway Island:
Paradise in Fiji at Castaway Island Resort
SAMED VILLA RESORT, KOH SAMET, THAILAND
Koh Samet (Samed) is an island off Thailand's east coast, about 3 hours drive from Bangkok. It is a small island in the Gulf of Thailand measuring 6.8 kilometres (4.2 miles) from north to south.
We arrived in Koh Samet via a mini-van transfer from Bangkok which took 2.5 hours, followed by a speedboat to the island which took 30 minutes. You arrive at the beach and have to wade in with your luggage. It pays to be barefoot!
We stayed at The Samed Villa Resort, in two connecting rooms, traditionally furnished, with stunning views of the beach and sea.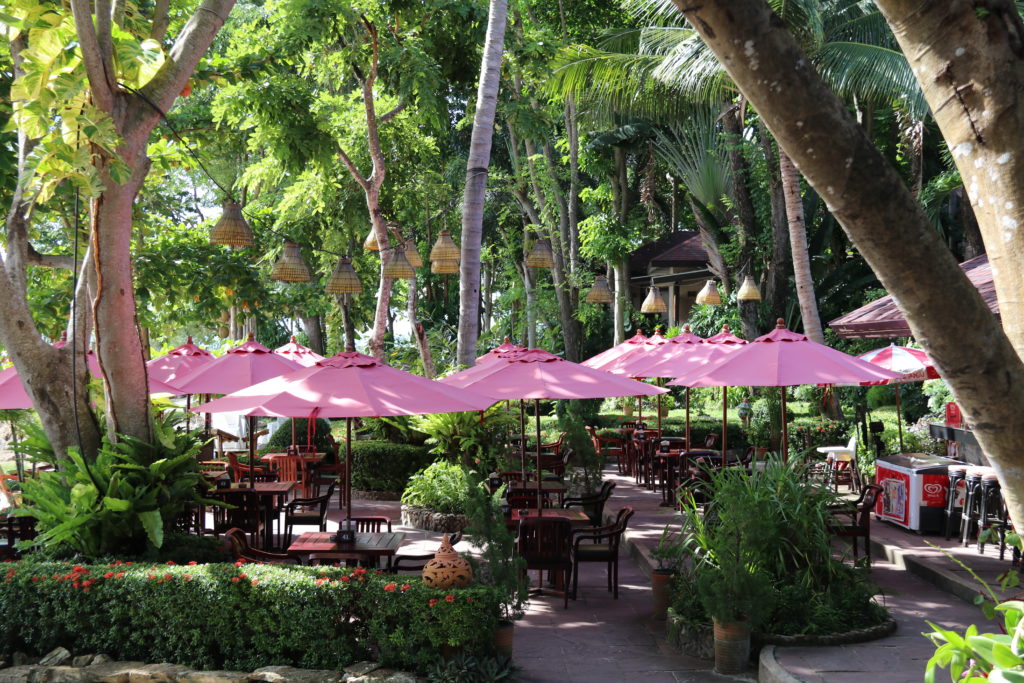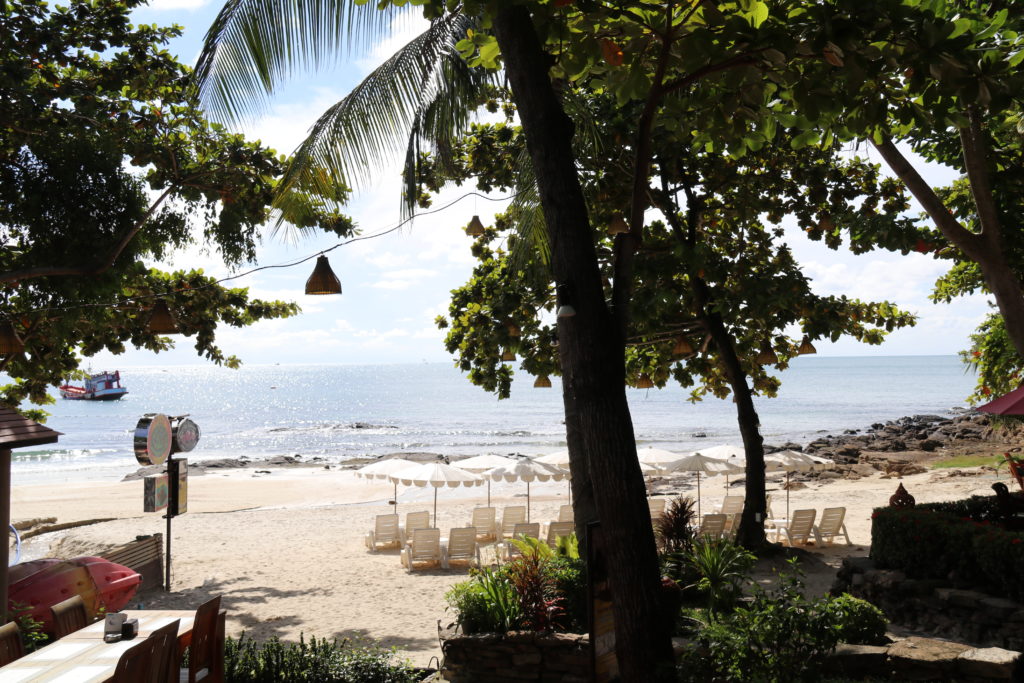 The restaurant served a mix of local and western food and featured a dining area right on the beach with a daily dinner BBQ. We loved the fruit shakes and cocktails..! It was wonderful to eat fresh seafood on the beach while watching a fire show, where local lads twirled and threw fire sticks as you ate.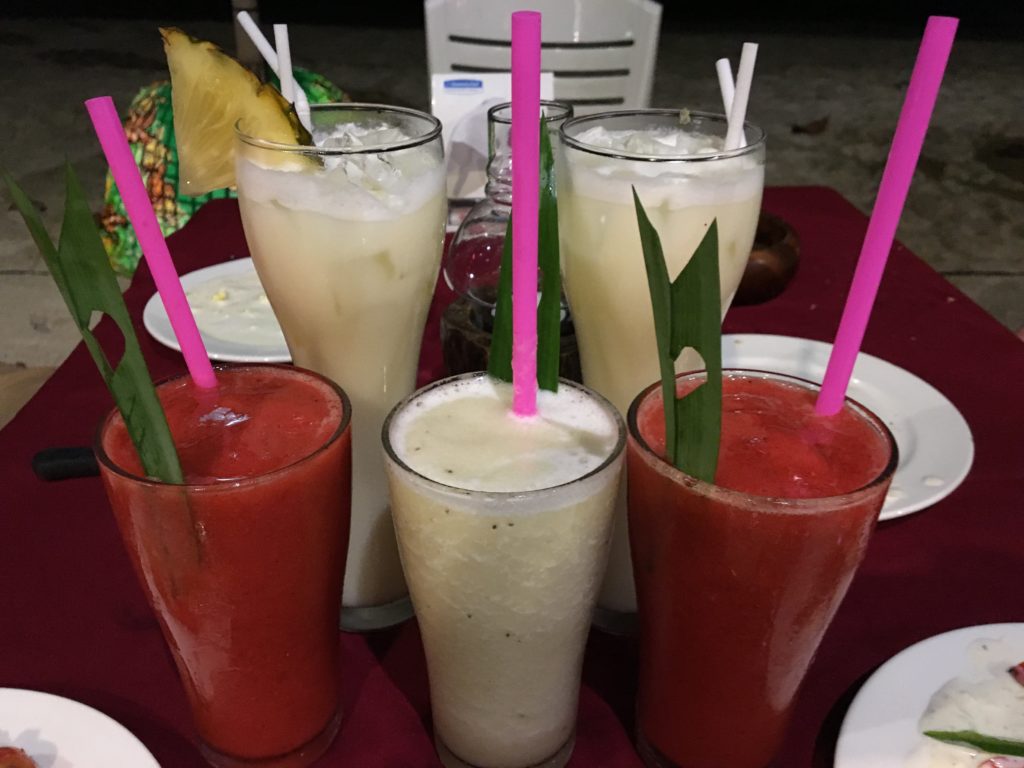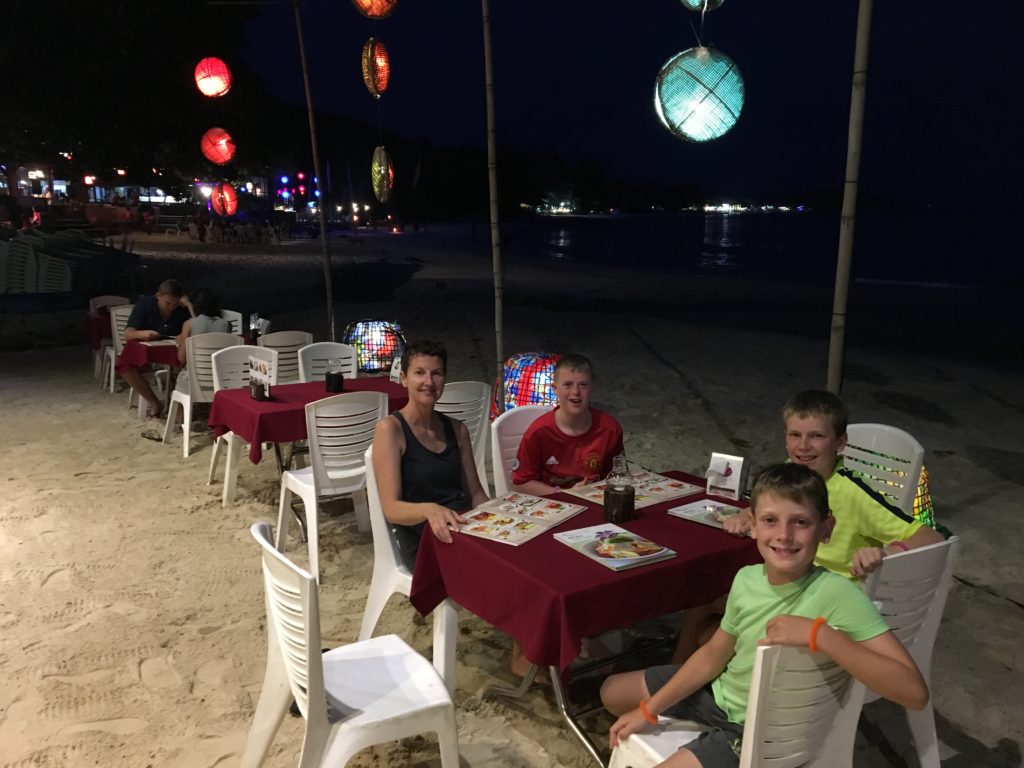 Visit Samed Villa Resort website for more information.
Read more about our time on Koh Samet:
VAL D'OR GUESTHOUSE, FRANSCHHOEK, SOUTH AFRICA
Located about fifty kilometres east of Cape Town, the Franschhoek/Stellenbosch/Paarl wine making region has the ideal soils, terrain and climate to produce wine. It is arguably one of the finest wine making regions of the world.
We spent three nights at the Val D'Or Guesthouse, located just outside the village of Franschhoek. A car is essential to stay here as you are outside the village itself. There are many fantastic restaurants nearby as well as wineries.
Here we stayed in the three bedroom owner's cottage. This place was so roomy and so well appointed we would have no problem living here. We had a full kitchen, living and dining rooms, three bedrooms, and two bathrooms. Outside there was a pleasant seating area. There are large gardens around the property and a pleasant swimming pool.  It was classic South African guest house hospitality, a little bit old school…and very nice as a result.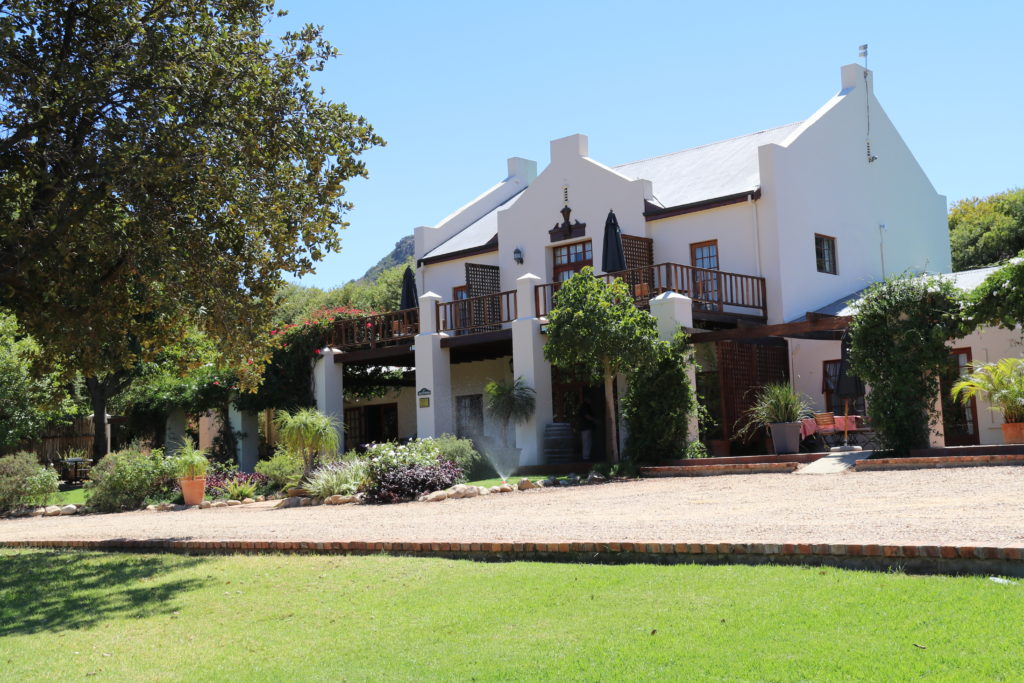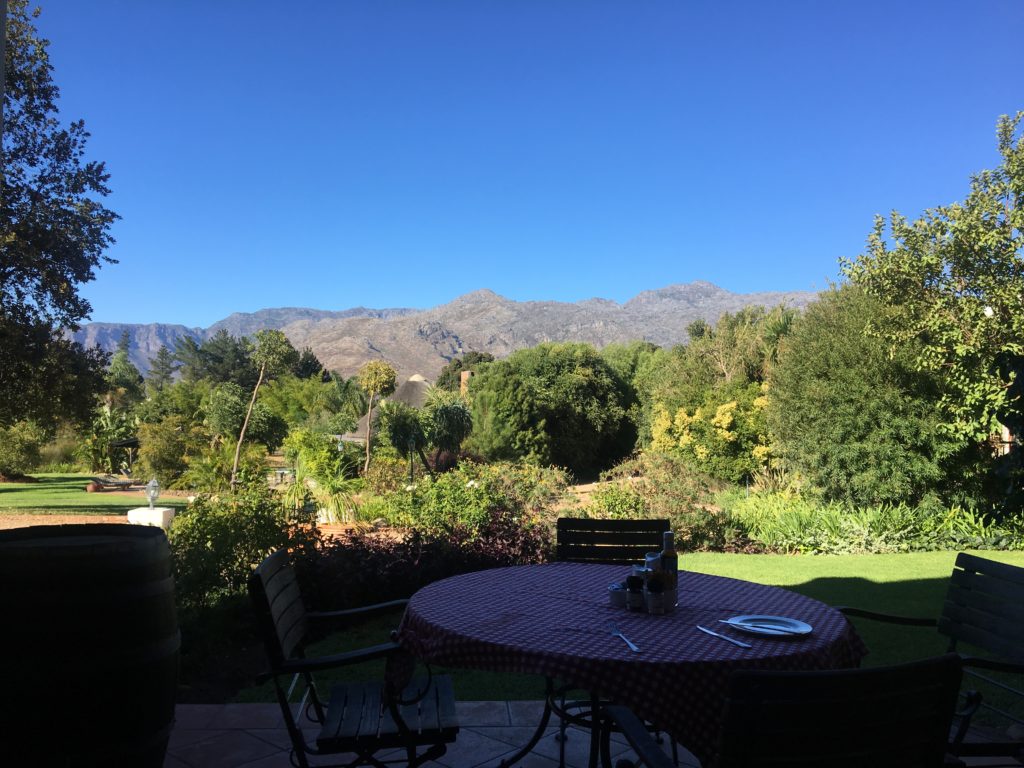 Visit the Val D'Or Guesthouse website for more details.
Read more about our stay in Franschhoek:
Exploring the Cape Winelands with Children
GALAXY PREMIUM CRUISES, HALONG BAY, VIETNAM
There are many different cruise companies that offer tours to Halong Bay. I spent a lot of time researching the different options. Galaxy Premium Cruises is a more upscale operator but we wanted a comfortable, positive experience. We took a two night/three day cruise on Halong Bay. We would certainly recommend this duration. For us the second day was the 'star' of our time at Halong Bay. It enabled us to get away from the crowds and truly enjoy the splendour of this magnificent place.
We opted for two premium cabins on the upper deck. Both cabins had enough space for a double bed or two twin beds, or even a triple, as in our case. Bathrooms are small but contain all the necessaries with a toilet, sink and large shower. There are only four rooms in the premium category on the upper deck and these have better views out of the windows but only a tiny bit of extra space.
We spent our time aboard kayaking and swimming amongst beautiful limestone karst scenery.  The sunsets admired from the boat were spectacular.
The food onboard the boat is an absolute highlight. We ate dish after dish of delicious seafood, meat, vegetables and rice. The seafood is outstanding – we ate fish, prawns, squid, crab and clams during our time on the boat.
We would highly recommend Galaxy Premium Cruises for anyone considering a cruise on Halong Bay.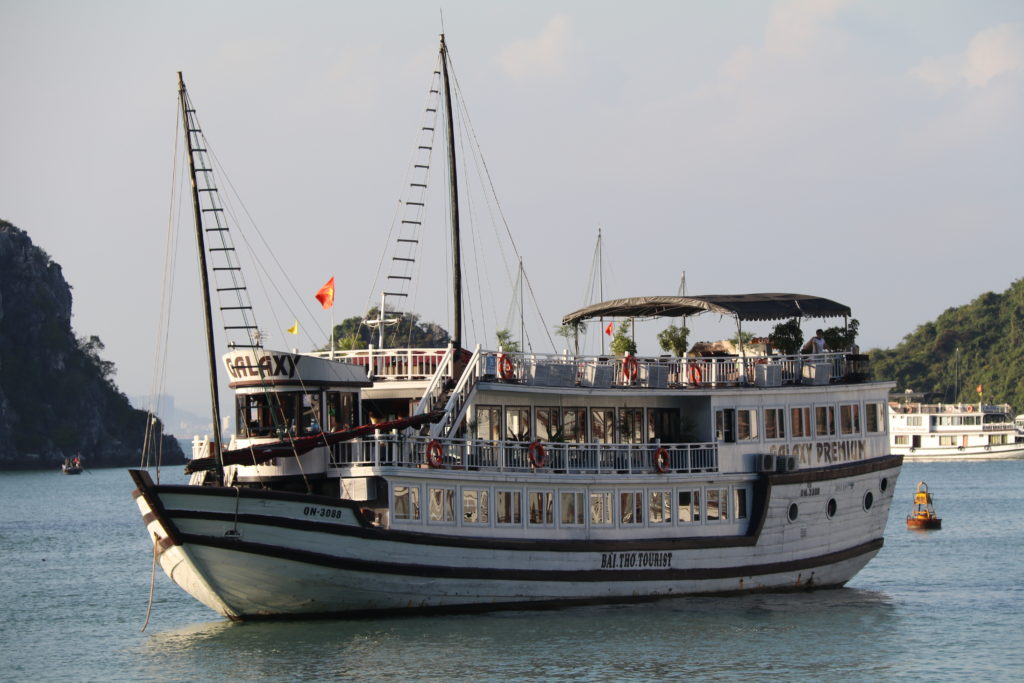 More information can be found on the Galaxy Premium Cruise website.
Read all about it:
THREE MORE GREAT ACCOMMODATIONS (that could easily have made our top 10)
Do you want more recommendations? Here is a list of three top quality mentions. These are just as great as our top ten and definitely worth looking into if your travels take you to these destinations.
Lantana Boutique Hotel in Hoi An, Vietnam. The hotel is very attractive, french colonial style but actually only a year old. We had two rooms to accommodate us, both were spotless. What really makes this hotel stand out however, is the service, which is second to none. Nothing was ever too much trouble, everything dealt with swiftly and with a smile.
Reef View Hotel on Hamilton Island, Australia. This hotel is very family friendly with many free activities on the island; stand-up paddle boarding, snorkelling, and sailing are just a few. Our rooms were large and interconnecting, located on the thirteenth floor with stunning views of Catseye Beach and the bay.
Colonial Villa in Sanur, Bali. Booked through Airbnb, The Colonial Villa was a treat after months of travelling through SE Asia. It is a "walled" property, so after entering through the gates you are transported to another world of isolation, privacy and in this case luxury.  With our own pool and the lovely open sided Balinese style living area we barely left the villa during our stay.