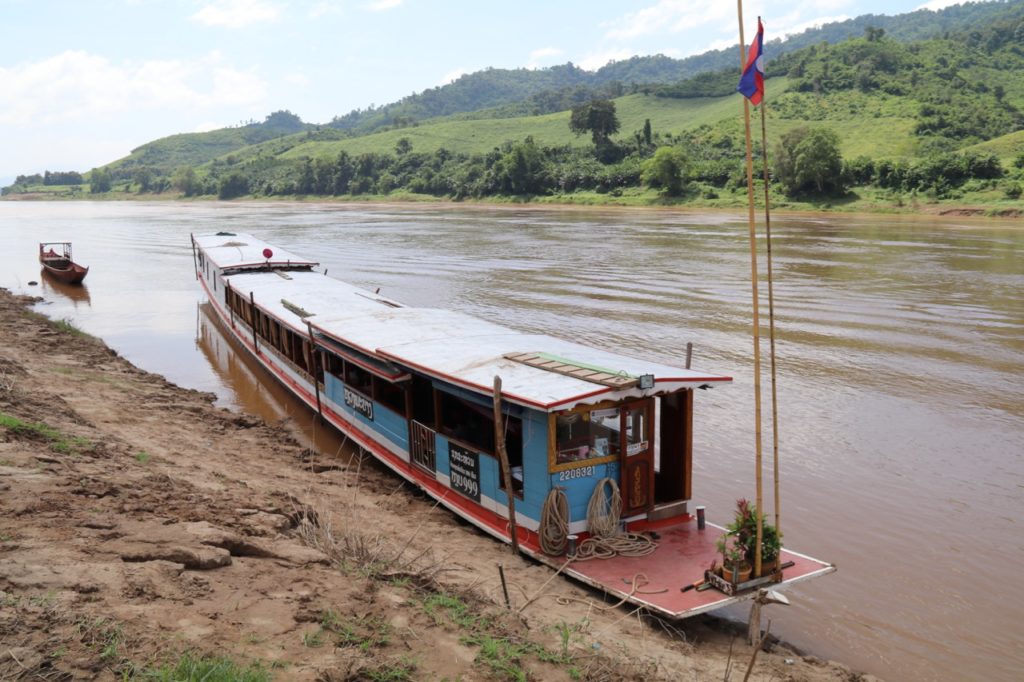 Taking a Slow Boat Down the Mighty Mekong River
The Mekong River is 4350 kilometres long – the twelfth longest river in the world. This river originates in the mountains of Tibet, China, and travels south, through Myanmar, Laos and Thailand. The path of the Mekong then crosses Cambodia and ends in southern Vietnam, forming the well known Mekong Delta. A popular thing to do while in Laos is to take a slow boat down a part of the Mekong River. Our trip started near the Thai-Laos border in the Laos town Huay-Xai, and from here it was a two day trip, ending in Luang Prabang, Laos.
Our day started very early on a Friday morning. We hired a driver to take us the one and a half hours northeast from Chiang Rai, Thailand to Chiang Khong on the Thai-Laos border. Here, we exited Thailand. It was then a short bus ride to Laos immigration where we easily obtained our Laos visas (35US$ for a British passport). We were now in Laos, another new country for us.
For our slow boat tour we used the tour operator Nagi of Mekong, chosen because of its good reviews on trip advisor. In Huay-Xai, we boarded our boat with seven other travellers, a total of twelve of us. The advantage of using Nagi of Mekong was that we were able to make the journey in a small group, on a comfortable wooden boat, lunch was served on both days, and they booked our accommodation in Pakbeng, Laos, the halfway point on the river. Many slow boats, especially during peak season (December until February), can get very crowded and uncomfortable. We wanted a more relaxed and peaceful experience, so we spent a little extra for comfort.
So, what is a slow boat? A slow boat is a very long, narrow boat with a flat bottom to travel in shallow water. The driver sits up in the front and the engine is in the back. There were wooden seats with cushions throughout the boat, with seating for four centred around small, wooden tables. We had plenty of room to spread out, since the boat was not filled to capacity.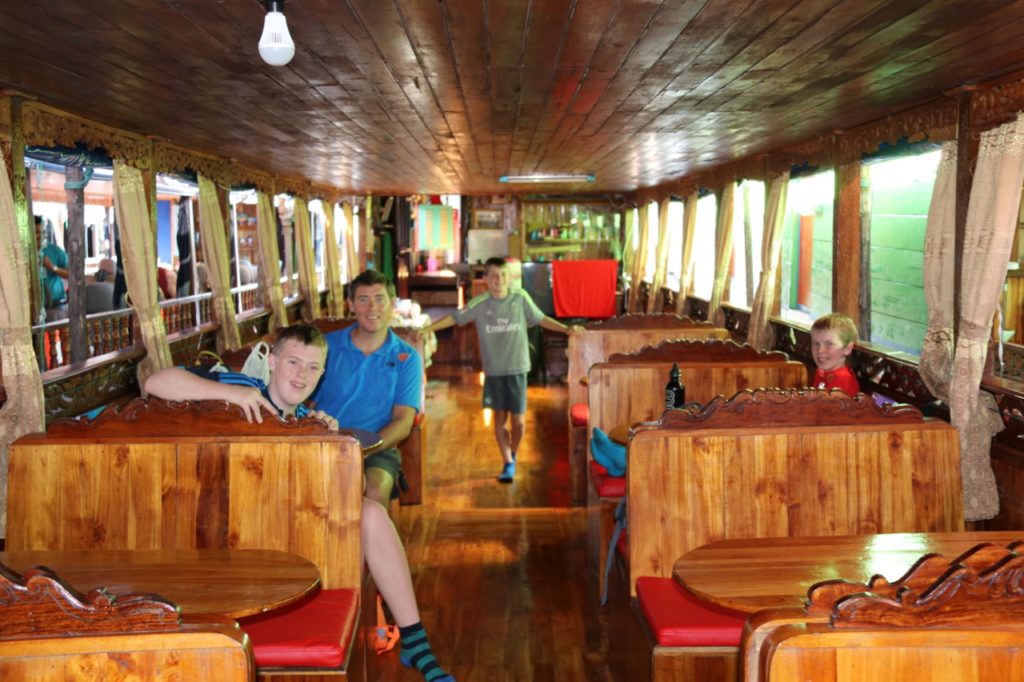 Tea, coffee, water, and fruit were served.  We also had a clean bathroom on board.
We started our journey down the Mekong River at 10.30am. It was a beautiful day for our trip down the river. This part of the world is gorgeous. On either side of the large Mekong River were small mountains covered with lush vegetation. For the first hour, Thailand was off to our right and Laos was to our left. Then, the river turned east and we were heading directly into Laos. As we sailed down the river, the boys did some schoolwork and read their kindles. Dave and I enjoyed the amazing views.
At 11.30am lunch was served. We were all starving as we hadn't had any breakfast due to our early start, just some crisps and dates! Lunch consisted of rice, vegetables, chicken and soup…it was delicious.
After lunch, we made a stop at a local village.  It was really interesting to see village life on the banks of the Mekong River. Barefooted children were playing in the streets, chickens and pigs were wandering around, and the typical houses were thatched, wooden and on on stilts.  In the village, we started a game of cane ball with our guide and an older child from the village. All the children came to watch and laugh..! Only one was brave enough to join in.
We sailed for approximately three more hours with amazing views around every turn. The boys did some more schoolwork and read their kindles. Dave and I drank many cups of tea. It was 4.30 pm when we docked in Pakbeng. This is a tiny town on the Mekong River.  Loaded down with our backpacks we scrambled up the steep slope into town.
We spent one night at the Mekong Riverside Lodge. This was an amazing place. We had two bungalows with a large shared balcony overlooking the river. This place has the wow factor with stunning views over the river. The rooms were simple but clean. Tonight we would be sleeping under mosquito nets and a swirling fan. We ate dinner at the lodge restaurant, run by an Indian family, and serving fantastic Indian food. We would recommend you eat at Khopchaideu Restaurant if you stay in Pakbeng. Then we went to bed early.
After an excellent nights's sleep, we awoke to two elephants on the opposite bank of the river. Another beautiful sunny day. Again we boarded our slow boat, and at 8am our journey down the Mekong River continued.
For several hours we drifted down the river, enjoying almost identical scenery to yesterday. The only difference being that the closer you get to Luang Prabang the higher the mountains. We played scrabble and a few card games and drank yet more cups of tea.
Late morning we stopped at another local village. Immediately we were surrounded by barefooted children all trying to sell us hand-made bracelets. As we wandered through the village hand-made shawls and scarfs were laid out for us to buy. We couldn't resist and all ended up with bracelets, whilst I also bought a shawl. The two villages we visited gave us great insight into the life of those living along the banks of the Mekong River.
Lunch on the boat was excellent once again. Today we ate fried chicken, noodles, vegetables, rice and more soup.
The captain of our boat was a small Laotian man who would sit on his high chair at the front of the boat, steering us down the Mekong River. He negotiated the river with ease, not always easy as there were many rocks and floating logs in the river, as well as very shallow rocky sections.
At 2.45 pm we arrived at Pak Ou Cave,  a large cave, located on the Mekong River, that has been converted into a Buddhist temple.
One hour later we were in Luang Prabang. Our slow boat trip turned out to be an amazing two days with incredible scenery throughout. We loved the laziness of floating down the river, reading, drinking cups of tea, playing games and doing schoolwork.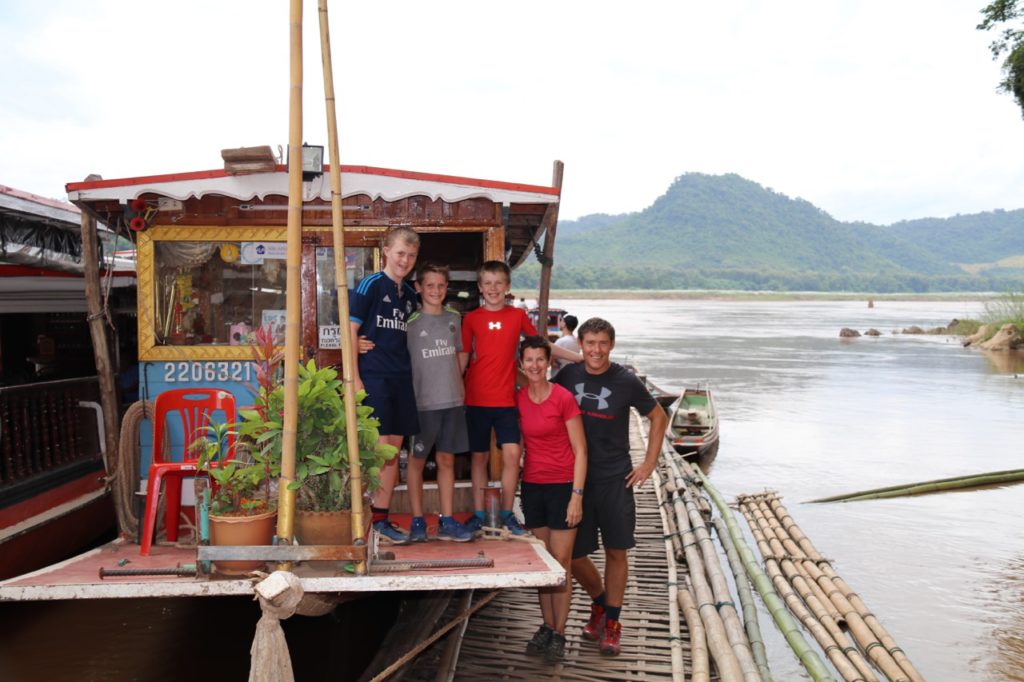 Would we recommend taking a slow boat down the Mekong River? 
Absolutely. Taking the slow boat down the Mekong River really is a "must do" activity in Laos. It also makes for very convenient transportation for anyone traveling overland from Thailand into Laos.