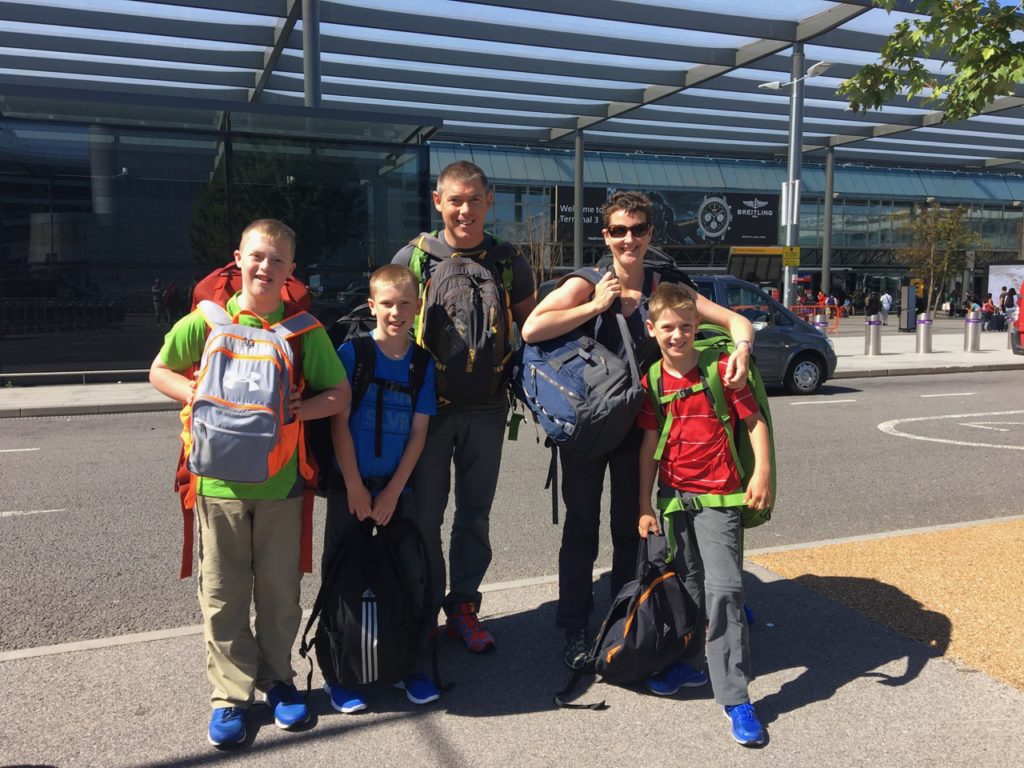 Eight Months Family Adventure Travel Around the World
We did it – an eight month trip around the world, leaving behind family and friends, work, school and "normal" life.
The eight months were amazing. Not only with what we have done but also from the support we have received from family and friends, as well as people we met along the way through our travels. I have thoroughly enjoyed writing these posts, my way of documenting what we have done and hopefully taking some of you with us. For those of you who have followed us, thank you very much. 
Since our return the most popular question we are asked is, "what was your favourite country during the trip?" This is a hard question to answer as the eight months were filled with many different countries, amazing memories and fantastic experiences. My favourite was possibly Bhutan, I loved being in the mountains with the spectacular scenery, in a land that takes you back in time. Dave loved China and all it had to offer. Dylan and Flynn both list Australia as their favourite country and Logan loved our time in New Zealand touring in a camper van. We all felt South Africa was unexpectedly amazing with its fantastic scenery and many animal encounters.
My favourite moment would have to be as we left home at the start of our trip for the drive up to Heathrow airport and the subsequent plane ride taking us from the UK and transporting the five of us to Shanghai, China. The anticipation and excitement about our adventure, looking forward to new countries, people, and foods, and knowing that we where about to spend eight months together as a family. It was an incredible moment. Here is where our journey begins.
EIGHT MONTHS AROUND THE WORLD
CHINA: AUGUST 2016
Travelling through China for almost a month enabled us to get into the groove of travelling. It was an adjustment for the five of us, being together for every moment of every day. I would be lying if I said always being together is not difficult at times, but for the most part it worked well. The boys had limited interactions with kids their ages, so they were forced to play together all the time. They have always been close but have got closer as a result. We also had to adapt to travelling on a budget – staying in cheaper hotels, taking public transport or walking and eating in less expensive restaurants. Now I look back at those first days with fondness. We were so fresh, so new to long term traveling, so naïve. Simple things like doing a load of laundry became an adventure.
Our travels took us from Shanghai to Zhangjiajie, home of the landscapes that inspired the sets for Avatar. Onto Guilin and Yangshuo which quickly became one of our favorite places, with its postcard perfect scenery, misty mountain peaks, and snaking rivers. Then onto Xi'an and the hugely impressive Terracotta Army. Finally to Beijing where we hiked the Great Wall of China and explored the Forbidden City.
We were traveling with just a few changes of clothing, had to adapt to being on a budget, and had to learn how to balance sightseeing with schoolwork, travel planning, and keeping this blog updated. We quickly realized that we were going to be much busier than we were at home, if that was possible, but we loved it.
The five of us adapted well to our new lifestyle. It helped that we were seeing world-class sights, eating new foods, living a life we could only have previously imagined. Those first days were very special.
See also: Top Tips for Travelling to China
SINGAPORE: SEPTEMBER 2016
We spent a few days in Singapore seeing old friends and exploring what the city has to offer. The Gardens by the Bay and Singapore Zoo were the highlights.
See also: A Short Stay in Singapore
MYANMAR: SEPTEMBER 2016
Myanmar was amazing, a country that I am so glad made it onto our itinerary. The Shwedagon Pagoda in Yangon was unbelievable, we seemed to step back in time on Lake Inle, but it was the temples of Bagan that were the real standout in Myanmar. We loved climbing up the temples, exploring on electric motorbikes and the beautiful vistas at sunrise and sunset.
See also: The Temples of Bagan
BHUTAN: SEPTEMBER 2016
Bhutan, a tiny country that many people are unfamiliar with, sits tucked away in the Himalayas, wedged between India and China. It is a small country with a huge cost to visit ($250 per person per day) but entirely worth it. Visiting Bhutan was like stepping back in time. We visited ancient buildings, drove through stunning scenery, and did some memorable hikes.
See also: Bhutan – Land of the Thunder Dragon
THAILAND: OCTOBER 2016
Thailand is a fantastic country which offers great variety from the temples of Bangkok, to the idyllic beaches of the south, and the rainforests in the north with trekking opportunities and all manner of elephant encounters. Thailand's nickname is "the land of smiles" because its people are so happy and friendly. It is also renowned for its food.
We started in Bangkok before heading to Koh Samet for some relaxation at the beach. From here we headed north to the ancient city of Sukhothai, then to the rainforests of Chiang Mai and Chiang Rai. Our favourite places in Thailand would have to be Bangkok, Koh Samet and Chiang Mai.
See also: Fun and Adventure in Chiang Mai
LAOS: OCTOBER 2016
We travelled into Laos on a slow boat down the Mekong River. It was an amazing experience. Sitting on our wooden boat, drinking cups of tea, relaxing, watching some of Southeast Asia's best scenery drift by. It will stay in our memories forever. Laos is a beautiful country with the friendliest of people.
See also: Taking a Slow Boat Down the Mighty Mekong River
Luang Prabang, where we spent five days, was fantastic…a small French town in the jungle. Unexpectedly amazing. From here we did an overnight mahout experience, learning to ride, bathe and communicate with Asian elephants.
See also: Learning to be a Mahout at the Elephant Village
CAMBODIA: OCTOBER 2016
Cambodia came next. Here we were joined by some good friends from home who travelled with us for almost two weeks. Siem Reap is a place that we fell in love with. Touring the temples was fantastic, but we also went quad biking and air-boating which were super fun activities.
See also: Best Family Friendly Activities in Siem Reap
We all got a dose of history when visiting S-21, the infamous prison, and the Killing Fields in the capital Phnom Penh. It was here that Logan celebrated his eleventh birthday with a bear care day, spending the day with sun and moon bears, at a local sanctuary.
See also: A Short Time in Phnom Penh
VIETNAM: NOVEMBER 2016
Our tour through Vietnam started on the island of Phu Quoc for some relaxation at the beach and then continued on from the south to the north of this fascinating country, taking almost a month.
Highlights were the time with friends on the island of Phu Quoc, touring the de-militarized zone with a war veteran, wandering the streets of beautiful Hoi An and cruising Halong Bay in a traditional junk for two nights.
See also: Cruising Halong Bay
BALI, FLORES, KOMODO AND RINCA ISLANDS: DECEMBER 2016
We had ten days in Bali, split between Ubud and Sanur, to relax and take things slowly. We were in need of some down time as we had been travelling hard for four months.
Next stop was Flores, a stunning island covered with volcanoes and forests. Tourism is still very much in its infancy here.
Our trip to Rinca and Komodo Islands was the highlight of our time in Indonesia. It was here that we saw Komodo Dragons, the only place you can see them in the wild. To see these large lumbering creatures, a throw back from the dinosaur era, was a privilege and something we'll never forget.
See also: Rinca and Komodo Islands
AUSTRALIA: DECEMBER 2016 AND JANUARY 2017
After four months of traveling through Asia we arrived in Australia where we spent five weeks. Christmas and New Year were spent with great friends of ours in Melbourne, a real family Christmas, the other side of the world. Australia was wonderful, but like New Zealand, expensive.
We had a busy schedule in Australia, trying to see all of the big sites like Uluru, Sydney, and the Great Barrier Reef. We loved Tasmania, an island that does not make it onto many fast paced travel itineraries, but is absolutely worth it. Also our trip to Fraser Island was superb, camping at the beach and driving our rented 4WD along Seventy Five Mile Beach. Sydney has become one of our favorite cities in the world, a stunning city located on the waterfront.
See also: Top 8 Things To Do In Sydney
NEW ZEALAND: JANUARY AND FEBRUARY 2017
New Zealand brought a month touring in a camper van. We started in Christchurch on the South Island and ended up in Auckland on the North Island. It was mid-summer when we visited New Zealand but nobody had told the weather! On the South Island we experienced high winds, rain, a lot of rain and hail, which dampened our spirits a little. We spent most of our time in fleeces and trousers which hadn't been worn since leaving home.
Our month long trip had us waterfall climbing, hiking, kayaking, jet boating, tobogganing and wine tasting. New Zealand is a country where you can get out and be active, enjoy some of the world's best scenery, all while getting an adrenaline fix. Even with the wet weather we did some incredible activities in New Zealand. Amongst our favourites were hiking the Tongariro Crossing, waterfall climbing in Wanaka, kayaking the Waikato River near Taupo, staying at a vineyard in Martinborough and visiting Hobbiton where much of The Hobbit and Lord of the Rings was filmed.
See also: The Tongariro Alpine Crossing With Kids
FIJI: FEBRUARY 2017
Here we spent ten days in paradise, snorkelling, sailing, paddle boarding, exploring some of the smaller islands, and getting in some much needed rest and relaxation. The beaches and sea are some of the best we've encountered anywhere in the world.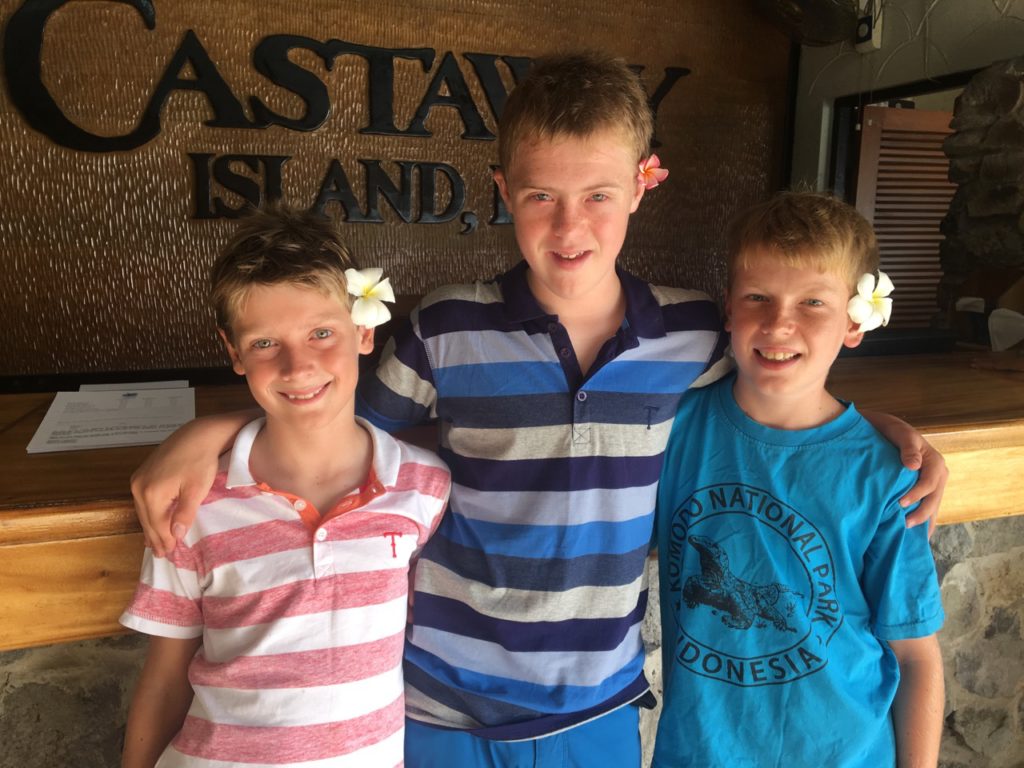 See also: Stunning Modriki Island
LOS ANGELES, USA: FEBRUARY 2017
For a few nights we experienced Los Angeles. We happened to be here for the Oscars so we got as close as possible to the action. Our time was spent at Universal Studios, the only theme park we visited on the whole trip, at Venice Beach and Santa Monica, and in Hollywood.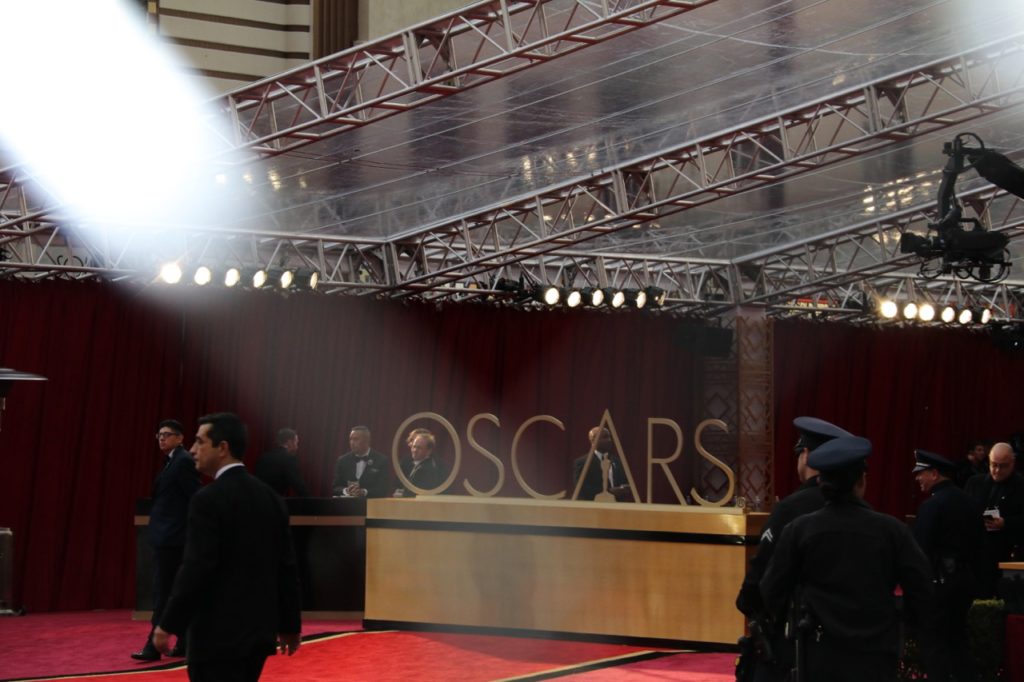 SOUTH AFRICA: MARCH 2017
After a mammoth journey from Los Angeles, via London and Dubai, we arrived in Cape Town, South Africa. It was on these flights that Dylan celebrated his thirteenth birthday with no less than three different birthday cakes! We were here for  a month exploring as much of the country as possible. Cape Town quickly became another of our favourite world cities, with Table Mountain as its spectacular backdrop.
From Cape Town we toured the best of South Africa's coastline, along the Garden Route and then around Durban and St Lucia on the east coast.
We ended our time in South Africa on safari in Kruger and Thornybush Game Parks. The number of encounters with animals we had in South Africa was epic.  How could we beat riding ostriches, swimming with sharks, touching a cheetah or getting within a metre of a large pride of lions?
South Africa was unexpectedly amazing. The country has so much to offer with fantastic scenery, great hiking, safari and other animal encounters, and great food and wine at cheap prices.
See also: Twelve Reasons Why You Should Visit South Africa With Children
MAURITIUS: APRIL 2017
Our world adventure finished in Mauritius with ten days relaxing at the beach in a swanky hotel. A perfect end to our eight month trip around the world.
BACK IN THE UK: 8TH APRIL 2017
Before we knew it, we were flying back to the UK. By this time we had reached our 250th day of travel visiting fifteen countries in the process. The eight months had passed so quickly. We were excited to be returning home to see friends and family again but sad to see this trip come to an end.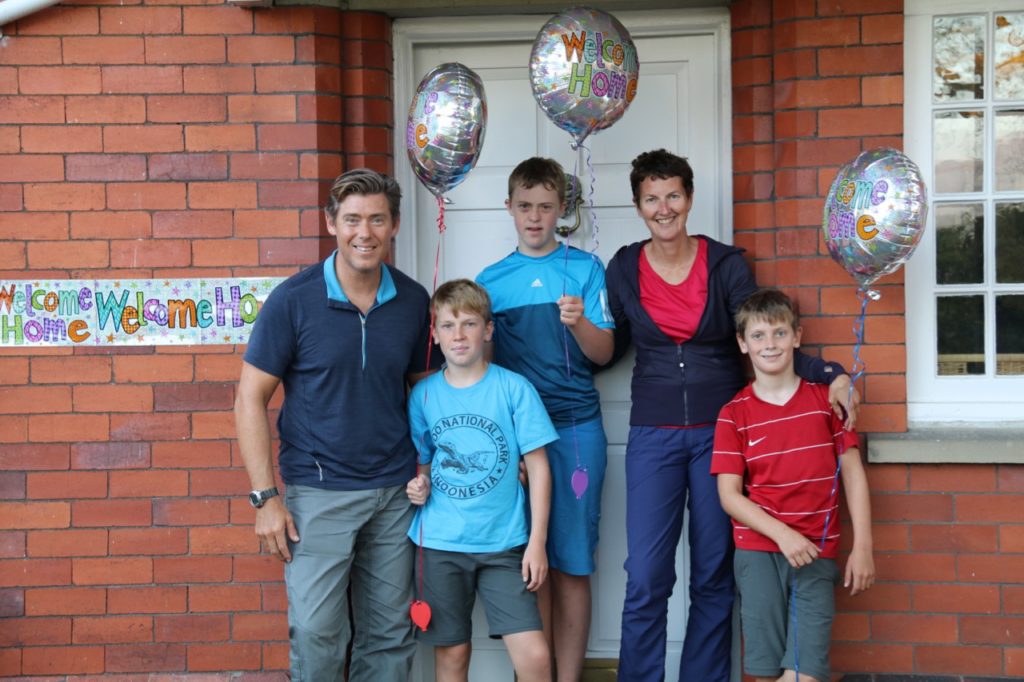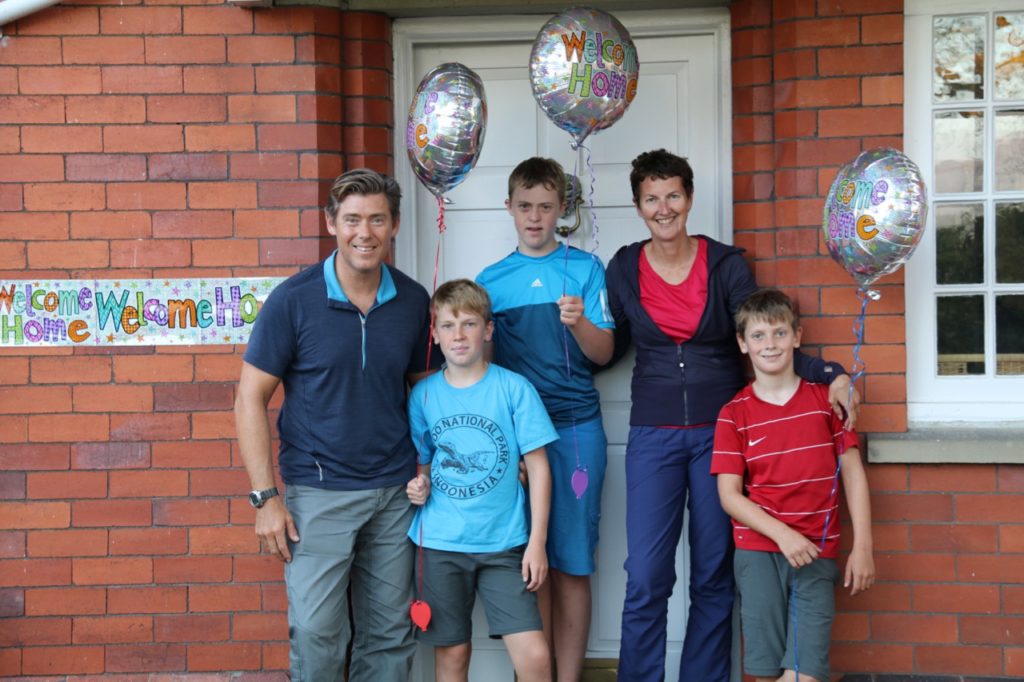 Now we are left wondering, how do we ever live a "normal" life again?  Only time will tell.
TRIP STATISTICS
Our trip took us to fifteen countries in 250 days. During this time we stayed in 87 accommodations, averaging just 2.8 days in each location. We moved around a lot but we loved it. We took 41 aeroplanes, 52 boats, 27 buses, 23 mini-vans, 16 kayaks, 16 tuk tuks, 12 bicycles, 6 cable cars and 1 train. Some of the more obscure modes of transport were ostriches, elephants, swegways, an airboat and a seaplane.
ROUTE AROUND THE WORLD

HOW HAVE WE CHANGED..?
This is a hard question and one that may take several months to truly answer. We certainly have more appreciation for the things that we once took for granted. Clean drinking water, plentiful food, power that runs twenty four hours a day, and the opportunity to go to school and live in a nice house are all readily available in the United Kingdom. So much of the world lives at a level of poverty not seen in the United Kingdom. It is hard to believe it until you see it with your own eyes. Travelling like we did really opened our eyes up to this.
The boys have grown enormously in a year becoming more confident, more "worldly wise" and more aware of different people and cultures. In between specific adventures on the trip we practiced the philosophy of "letting children get bored" – our aim was to avoid the option of providing stimulus all the time, and specifically to avoid electronic things! Consequently they have developed their own skills in occupying themselves, talking to others, and just finding things to do. They have proven to be highly adaptable throughout the journey and constantly made us proud when willing to try new things and experiences. After eight months with primarily adult company, one of their biggest adjustments for them will be to re-integrate with their peers. They also need to re-learn the norms of adult/child relationships when in a structured setting like school or sports teams!
Taking a trip like this does not extinguish any wanderlust we may have had at the start of this trip. In fact, for every destination we ticked off the list, two more got added. Our quest to see as much of the world as possible, to fill our lives with memories, will continue way past the last day of this trip. Now we are once again faced with the obstacle of balancing work with time away to travel, all while raising three kids. Travelling has also taught us to quickly adapt to new surroundings and situations, so it will be interesting to see how long it takes us to adapt to a settled life back in South Wales.