Bank Holiday Fun at Circus Funtasia
Circus Funtasia is a fast paced, all human circus show, with acrobatic, comedy and aerial acts. They've spent the summer touring Cornwall and remain here or in neighbouring Devon for the next month or so.
We love a good circus so were excited to visit Circus Funtasia at Bodmin on Bank Holiday Monday. There was seven of us, our family, my mum and brother. We had high hopes that we would all, ranging from 9-75 years of age, be happily entertained.
As we arrived the big stripy red top beckoned us in. We had ringside seats, close to all the action. We sat in our seats, munched on some snacks and eagerly awaited the start of the show.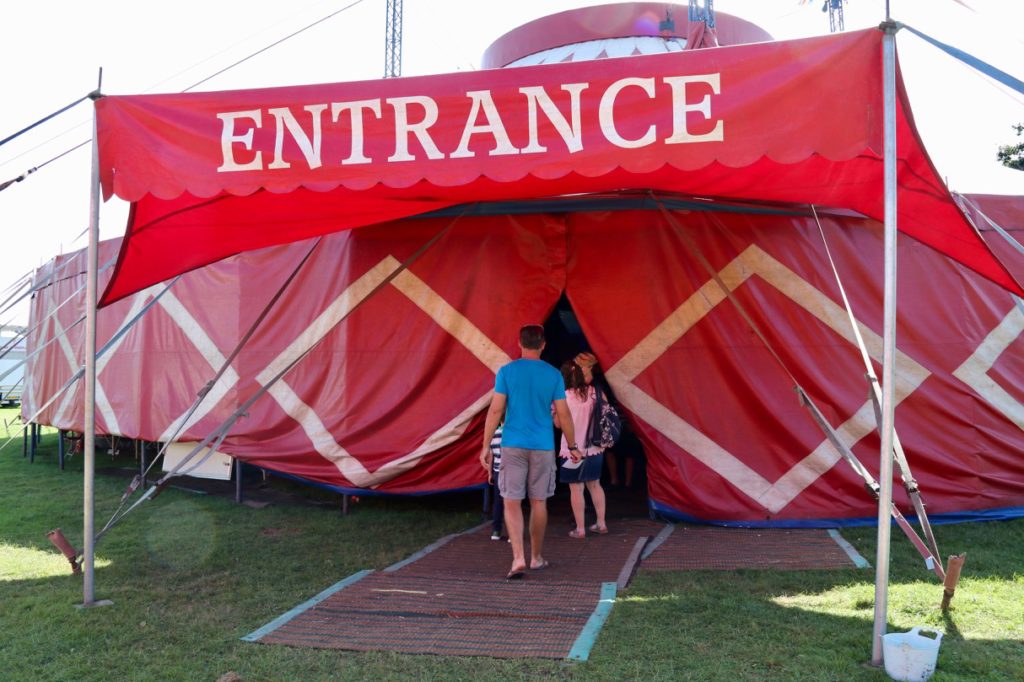 The show began with a young french clown, Anthony Lefort. He entertained us throughout, often appearing between the acts, showing us mime, juggling, slapstick and extreme plate spinning. The boys loved him, a funny modern day clown.
Following him was a Spanish couple who did high speed roller skating and acrobatics on a tiny raised circular platform. How they managed to  roller skate and perform acrobatics on such a tiny surface was beyond me. They were very exciting to watch. We were all slightly worried that the man would let go of the woman and she would end up flying past us into the third row!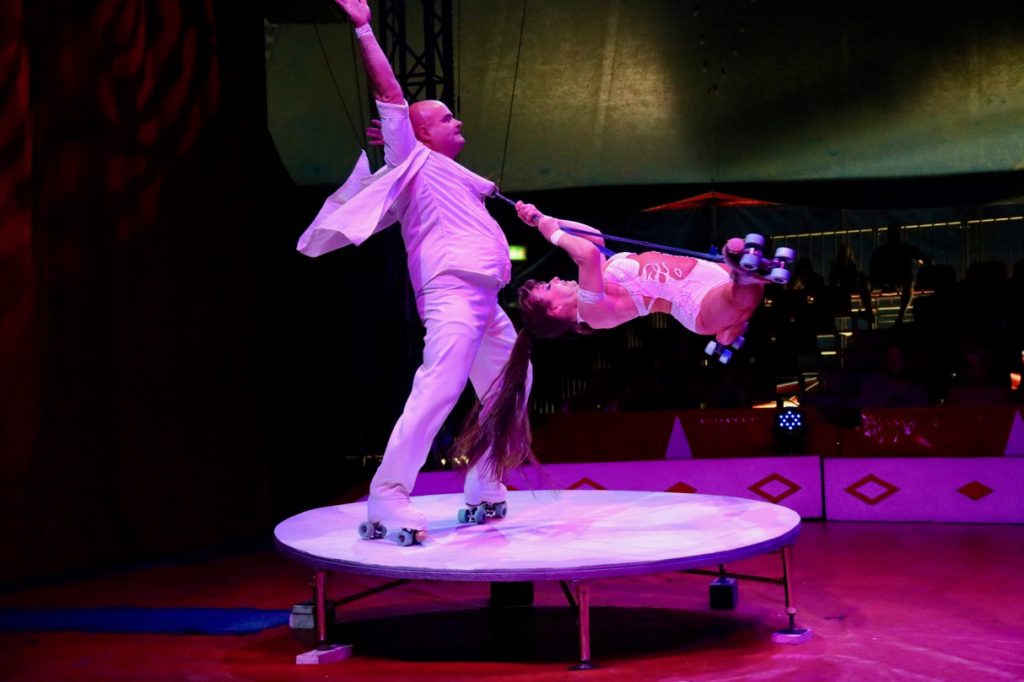 A Bulgarian couple then entertained us with aerial acrobatics, whirling and twirling from ribbons dangling from the top of the circus tent. At times they were several metres in the air dangling from the big top with no safety net or wires in sight! Circus performing is a dangerous job.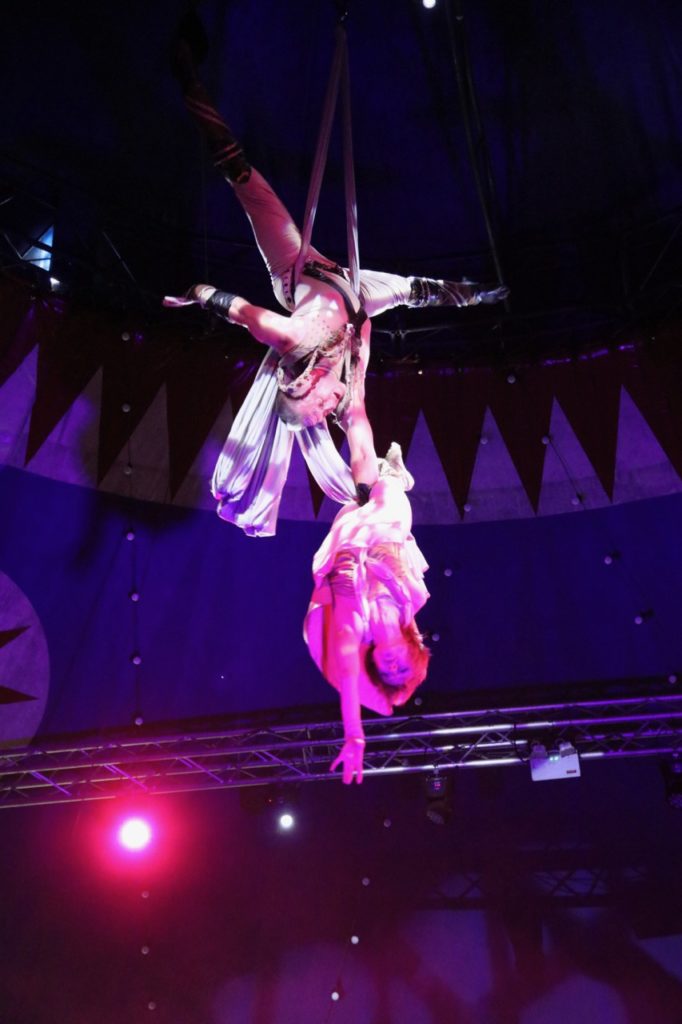 The interval followed, enough time for a few photographs and some sweets.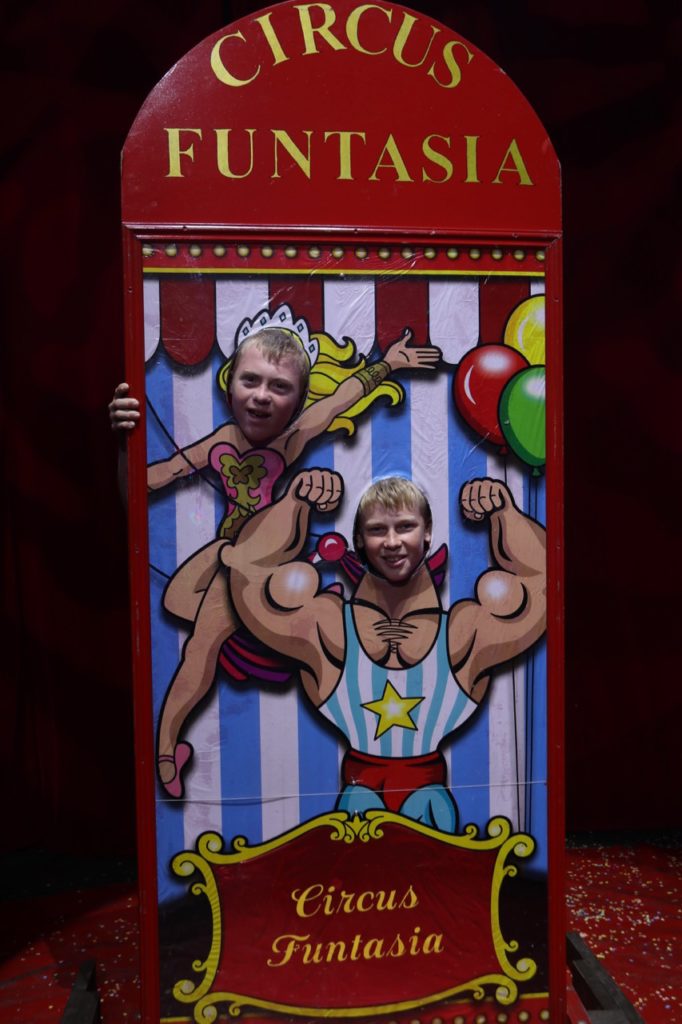 Following the interval it was time for tightrope and juggling. Elodie managed to maintain her balance whilst dancing and juggling on a tiny wire suspended two metres off the ground. At one point she even managed to do the splits on the tightrope!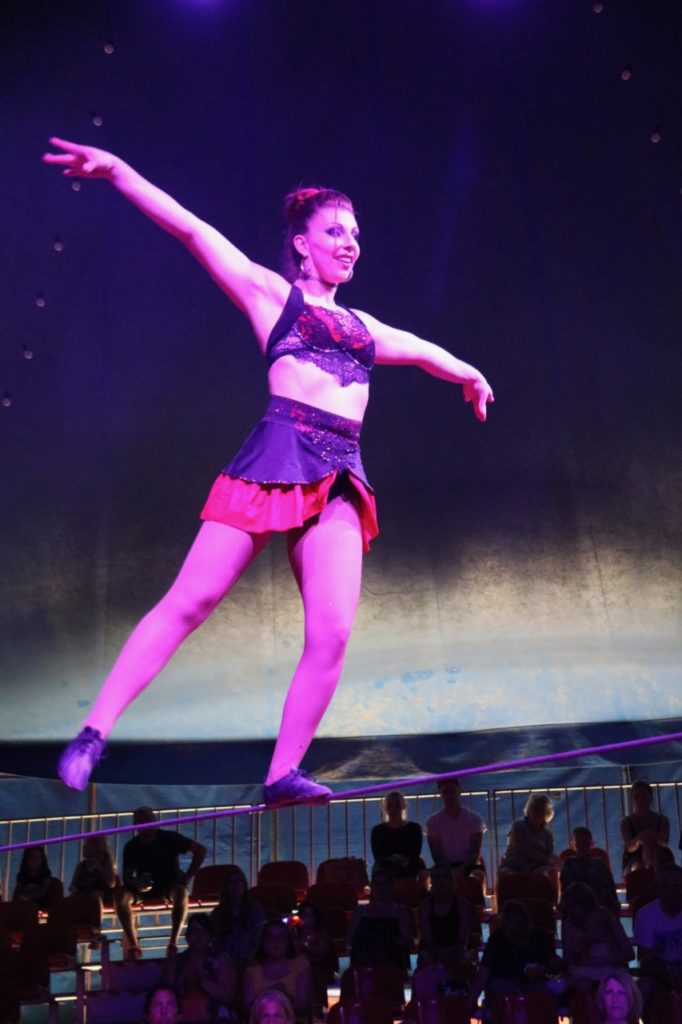 Teenager Nia, daughter of the circus directors has a promising career. She is the youngest juggler in the UK with her own act. She had the children mesmerised as she spun around the ring on a Segway whilst juggling rings and batons to music. Fast paced and very entertaining.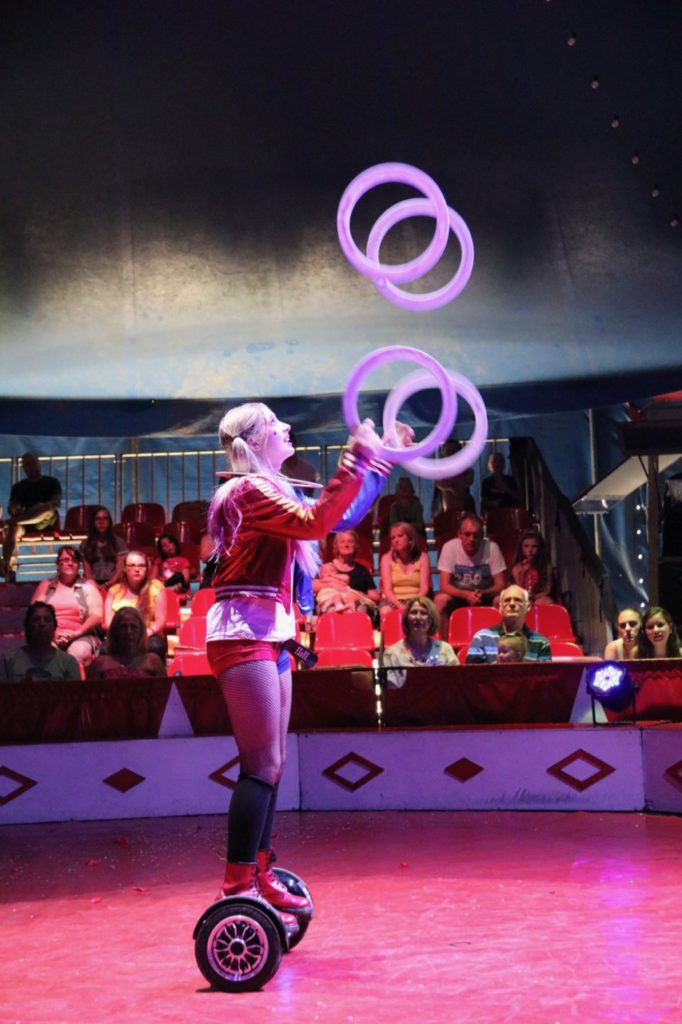 The last act of the circus, the grand finale was spectacular. The so called Globe of Death, where motorbike riders are locked in a giant metal spherical cage riding around at speed, in incredibly tight formations. At one point four of them all looping each other at high speed in a cage. At times they reach speeds of 40mph inside a 5 metre high spherical cage! Super dangerous in such a tiny space. We had seen this act at the famous Shanghai Circus but it was quite something to see this performed at a touring circus where the cage has to be set up for each show. The noise of the motorbikes along with the music and flashing lights made for quite a spectacle. I was terrified throughout, on the edge of my seat hardly daring to look, the boys thought it was the best circus act ever!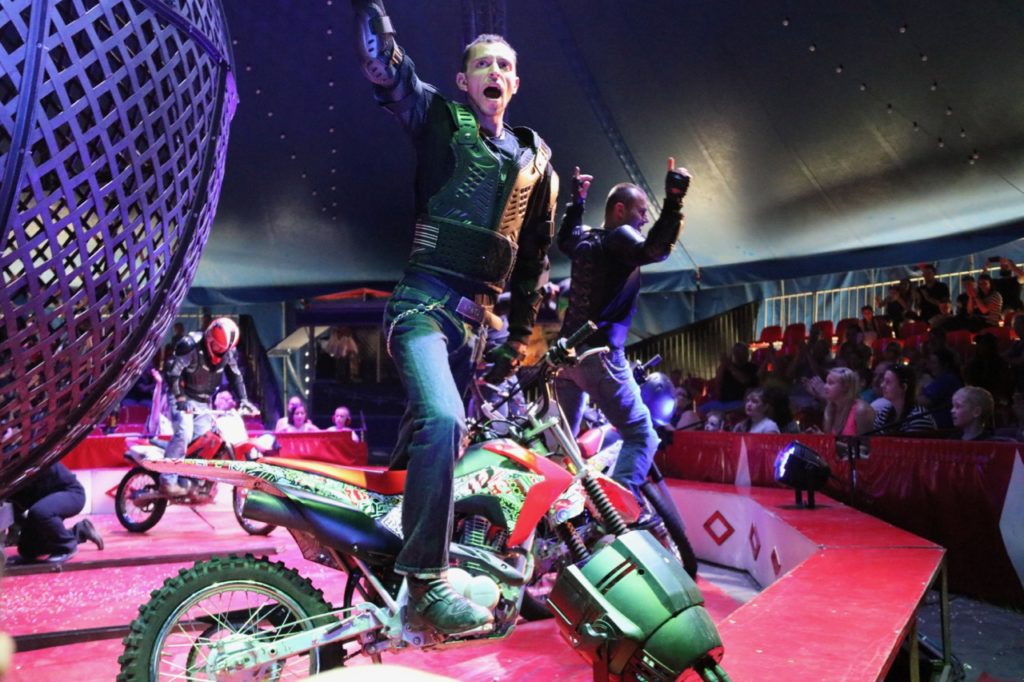 The show lasted 1 hour 45 minutes with an interval. We all loved the show and were fully entertained throughout. Circus Funtasia manages to appeal to all ages as was proven in our case, with adults and children alike having a great time. The boys were transfixed, loving the clowns humour, the dazzling acrobatics and of course the motorbikes. The last act is truly unbelievable and one which will be remembered for a long time. We all had a brilliant time and would highly recommend a visit. Circus Funtasia are in Cornwall and neighbouring Devon for the next few weeks so see them if you can.
UPCOMING DATES…
We highly recommend a visit to this touring circus. Catch it soon…
Hayle 30th August – 2nd September
St Austell 13th – 17th September
Pool 20th – 24th September
Bideford 27th September – 1st October
Bude 4 – 8th October.
Disclosure: We received free tickets to Circus Funtasia in exchange for an honest review. All opinions expressed are my own and those of my family.